Learn To Achieve A Defined Jawline Through These Tips and Jawline Contouring with Volux Woodlands.
In the world of beauty, there are many things to consider when you're trying to achieve your ideal look. One of the most important is developing a defined jawline.
A defined jawline is vital for several reasons, including:
It helps you look more youthful and healthy.
It makes you look more confident and powerful.
It creates the perfect smile.
You see it in magazines, on the runway, and even in your mirror: a defined jawline is one of the most coveted features of a woman. Many women spend hours at the gym trying to achieve this look, but what if you could get it without all that effort?
It can be difficult to draw attention to your best features if you don't know how to develop and maintain your own defined jawline. That's why we will break down the importance of having a defined jawline—and how you can ensure yours looks its best.
Read on to find out the best ways to improve your jawline besides Jawline Contouring with Volux at Woodlands.
The jawline largely determines a face's shape. A hyaluronic acid filler can help create a more defined and chiseled jawline.
How to achieve a chiseled jawline
When looking for a new haircut or makeup look, you may be tempted to go with something that looks good on you. But in reality, there's more to it than that, and if you want your face to be as radiant as possible, you need to consider developing a defined jawline.
A defined jawline is essential for creating balance in your overall appearance and ensuring your face doesn't look lopsided. It also helps to bring out features like your eyes and lips, so they stand out more clearly against your skin tone.
Do jaw exercises
Exercising is the best thing you can do when developing a defined jawline. Do multiple jaw exercises that can reduce fat and tighten your facial skin.

You can try repeatedly opening and closing your mouth, twisting your head, and even creating funny faces. Don't worry—you can do this alone at home, so it wouldn't be embarrassing.

Drink water frequently
Water is always an essential part of a beauty list. Why? It's because drinking water helps flush out all the toxins in the body. It keeps you hydrated, making your face appear more youthful and toned.

Men should drink around 3.7 liters of water per day, while women are recommended to drink 2.7 liters.

Get the right haircut
The muscles aren't the only thing you should improve when trying to have a better-looking jawline–sometimes, you have to work out the hair too. You need to get a haircut that is not just flattering but could help define your jaw even more.

Consume less salt
You can find salt in many things that we eat. But the thing is, you need to eat less salt if you want a more chiseled jawline. Salt can negatively affect the skin and trigger bloating when consumed a lot.

It is best to avoid eating too much junk food or other salted snacks in the meantime.

Learn more here: Why You Should Love Yourself First Before You Love Others

Lose weight
Getting rid of fat can leave you with a toned physique, effectively showing off more defined features of your face. You must exercise three to four times a week to lose weight. You can start with walking, jogging, and even moderate weightlifting to reduce fat.

Do facial massages
Massage is great for improving blood circulation, which is crucial in developing a youthful appearance. Grab an essential oil or a moisturizer and gently massage your face even for a few minutes.

Rub your cheeks, chin, jaw, and temples to ensure that you will feel relaxed and refreshed. Start the routine from bottom to top to prevent the skin from sagging.

Get the right amount of sleep
Sleep is always an essential aspect of beauty. If you do not get at least seven to eight hours of sleep, you will look tired, and your face will appear puffy or bloated.

Reduce carbs
Another cause of face puffiness is overeating carbs. You need to engage in a low-carb diet to avoid any bloating from going on. It means you must refrain from eating too much bread, pasta, and sugary beverages like soda.

Chew gum
Chewing gum may seem like a ridiculous beauty tip, but it's valid and effective. It is the easiest form of exercising your facial muscles. Doing a lot of jaw movement will help it become more defined. Furthermore, it's fun and quite tasty!

Undergo jawline contouring
Facial contouring allows people to enhance their looks with zero effort. So, if you plan to have a chiseled jaw but are tired of relying heavily on makeup, jawline contouring with Volux at Woodlands is the best way to go.

It is the process of injecting hyaluronic acid filler into the bone to produce a more defined jawline.
How Jaw Contouring with Volux Woodlands Can Help.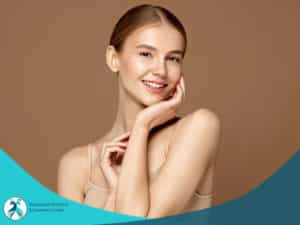 Remember to do the tips above to have a naturally defined and chiseled jawline.
To help you with the process, try jawline contouring with Volux at Woodlands.
This minimally invasive procedure will allow you to display more defined facial features that could highlight your youth and attractiveness. It has a natural lifting power that could lead to a stronger and more defined jawline. Regarding facial contouring, you can trust us here at Woodlands Wellness!
To know more, contact (281)362-0014 or visit us at 2829 Technology Forest Blvd Suite 140, The Woodlands, TX 77381. View our clients' experience with our Jawline Contouring with Volux here.