Get ready to enjoy all that summer offers with CoolSculpting Elite in Woodlands, TX!
At Woodlands Wellness & Cosmetic Center, we strive to provide our patients with individualized care and effective treatments that will assist in achieving their desired results.
Surgery is not always the option when it comes to tightening skin and toning one's figure.
Some patients feel that surgery is too invasive for them, and they do not have the luxury of time for extended downtime. 
In these cases, our Woodlands Wellness & Cosmetic Center team offers non-surgical, non-invasive body contouring with CoolSculpting Elite. This innovative body contouring technique can help you get rid of stubborn fat and have the body you desire.
We asked an expert how to achieve the perfect body and how CoolSculpting Elite can help you with your goals!
CoolSculpting is a non-surgical lipo treatment that freezes fat, so you can have the body you desire.
Tone Your Way to a Healthy Body
Here are realistic ways to inch your way closer to the "perfect body" you desire!
Set realistic goals – Make sure that your body goals are SMART: Specific, Measurable, Achievable, Relevant, and Time-bound. SMART goals will help you reach your ultimate goal while keeping you motivated.

An example of a SMART goal is "I will exercise 30 minutes in the morning every Monday, Wednesday, and Friday for six weeks to increase my activity level."

Include strength training exercises – Strength training is one of the best ways to get that lean and fit look. Strength training exercises like lunges and squats help add muscle mass and change the size of your muscles. You can change your body's shape or "build through strength training."

Keep track of your calories – To look toned, you need to reduce your body fat percentage. To do that, you must limit your calorie intake. When you burn more calories than you consume with food and drink, your body starts using fat for energy and shrinking fat cells.

Stay hydrated – Drinking water regularly and staying hydrated has been proven to facilitate weight loss. Water has no calories and keeps you full, reduces your appetite, boosts your metabolism, burns calories, and makes you feel better. Our bodies function more efficiently if they are hydrated.

Achieving the perfect and healthy body is easier said than done. Even if you have a great exercise routine and eat well-portion meals, it's hard to achieve a "perfectly toned body." Complement your workout routine with CoolSculpting Elite! 
What is CoolSculpting?
CoolSculpting is an FDA-approved system to get rid of fat from stubborn areas of the body without going under the knife.
It works by applying controlled cooling to target unwanted fat cells beneath your skin while leaving the surface skin unaffected. The fat cells gently freeze and die and are flushed out of the body via natural processes.
CoolSculpting is perfect for areas with stubborn fat. It uses a C-shape cup applicator to allow contact to a larger surface area, more suction, a more even cooling result, and faster treatment times. 
Learn More Here: Get Rid of Stubborn Fats with the Best CoolSculpting in Woodlands TX
The cryolipolysis technology suctions the target treatment area, then deep-freezes the fat cells underneath. Say goodbye to love handles, bra fat, and extra fat under your chin and jawline, thanks to CoolSculpting.
How does CoolSculpting Elite work?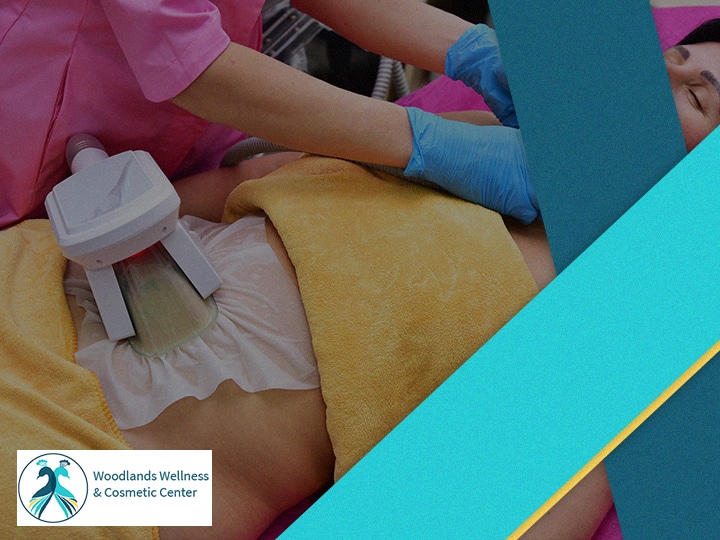 CoolSculpting is a great body contouring treatment. It will give you a fat reduction of 20% to 25% even after just one session!
CoolSculpting Elite involves cryolipolysis, which is the process of deep-freezing fat cells underneath the skin to destroy them permanently. 
During the procedure, there will be a mild vacuum pressure between the cooling panels.
The cooling panels deliver controlled cooling to the fat cells by extracting heat energy. Then, the fat cells die naturally and are eliminated via the lymphatic system. After the procedure, the treated area will feel numb, and you will receive a gentle massage.
Remove stubborn fat and tone your body with the safe and effective CoolSculpting Elite, available in Woodlands, TX!
Why should I choose CoolSculpting Elite?
CoolSculpting Elite's cryolipolysis technology freezes and kills the stubborn fat cells from the body. Here are the five reasons why you should try CoolSculpting Elite in Woodlands:
Eliminates up to 20% to 25% of treated fat cells permanently in a single session – Say goodbye to stubborn fat cells forever since the results of CoolSculpting Elite are permanent.

Targets trouble spots that bother you the most – Fat deposits are usually harder to remove in areas such as the flanks, under the chin, and abdomen. CoolSculpting Elite targets these areas to remove unwanted fat.

Resculpts your figure – CoolSculpting Elite helps contour the body by targeting your problem areas.

No downtime and pain-free – Unlike invasive surgical procedures, CoolSculpting Elite is quicker, pain-free, and has no downtime! You can resume your daily activities right away!

No surgery – CoolSculpting Elite is safe, effective, and non-invasive. No risk of infections or complications!
Achieve the body you desire with CoolSculpting Elite in Woodlands!
CoolSculpting Elite can help remove fat safely and effectively so you can achieve the body shape and tone you dream of!
Head on to Woodlands Wellness & Cosmetic Center, where our experts can address each individual's concerns and body goals. Rest assured that you will be getting a bang for your buck.
Are you ready to have the body of your dreams? Contact Woodlands Wellness & Cosmetic Center today at (281) 223-1124 for a complimentary consultation, and let's get started with CoolSculpting Elite.