Get The Most From Your Liposuction by Eating Fat-burning Foods. Start Today To See Results!
So you've finally decided to try non-surgical liposuction from Woodlands Wellness.
But did you know you can help boost your metabolic rate to help you lose more body fat?
Often, the first area we focus on when trying to burn fat is what we put inside our bodies. While we can all consciously limit fast food and eat healthier meals to lose belly fat, knowing which foods to eat more actively burn fat and calories is also helpful.
No, we're not talking about "fat-burning supplements" on the market. They could be unsafe, ineffective, or both!
Aside from toning your body with strengthening exercises, you can eat and drink your way to boost fat loss! Natural foods and drinks can boost your metabolism and help you lose fat. Burn more fat with liposuction and eating fat-burning foods!
Overhaul your eating habits with fat-burning foods, and get the body of your dreams! Stop spending too much time in the gym, and start eating smarter.
Fat-Burning Foods to Munch On
These fat-burning foods are delicious and scientifically proven to help aid weight loss. You can add these foods to your controlled eating plan.
Fatty fish

A simple salmon or herring dinner can help you lose weight fast, as these types of fish are packed with protein and omega-3s. Omega-3 fatty acids have been shown to reduce inflammation and the risk of heart disease. Moreover, fatty acids in fish, such as salmon, mackerel, herring, and sardines, can help you lose body fat.

Salmon is a fantastic source of high-quality protein that benefits weight and fat loss. A high-protein diet can help reduce levels of hunger hormones and cravings and increase satiety. Since the body must work harder to digest protein, many calories are also burned in the process.

Fish oil supplements also contain omega-3 fatty acids. Studies have shown that supplementation with fish oil can significantly increase lean mass and decrease fat mass. These changes are correlated with reduced cortisol levels, as cortisol is linked to fat storage.

Eggs

Everyone starts their day with a hearty plate of eggs, and there is a good reason why–it's excellent for weight loss.

What makes eggs suitable for weight loss? It all comes down to protein. Eggs are a high-protein food that can help burn fat. Protein speeds up your metabolic rate, which can be as much as 30% faster when eating high-quality protein.

In addition, protein is essential for building and maintaining muscle mass. The more muscle you have, the more metabolically active you will be.

Peppers

A little heat goes a long way when it comes to burning fat. Chillis and peppers help stimulate metabolism. They have a thermogenic effect on the body, which speeds up the metabolism and the rate at which your body uses energy.

During thermogenesis, people can burn more calories by simply being warm, as the process raises their body temperature. When we eat chili peppers, our body heats up, which increases the rate of burning calories.

Moreover, chili can burn fat even if you do not eat it. High-quality chili oil can be used directly on the skin to increase circulation, reduce cellulite, and increase fat burning. Just be careful in applying it directly on your skin, and avoid cracked skin, crevices, and around the eye area.

Lear more here: Find Body Contouring in Woodlands, Texas

Green tea or Oolong tea

Both green and oolong teas are said to be healthy beverages. Both types of tea contain caffeine and catechins. Catechins are natural antioxidants that help prevent the formation of free radicals in the body.

Drinking just one cup of oolong or green tea can accelerate weight loss. Both types of tea are believed to accelerate metabolism and improve fat mobilization, making it a great weight loss aid. Packed with antioxidants and healthy compounds, oolong, and green tea can help you shed pounds faster with less effort.

Dark chocolate

There is absolutely nothing that a bar of good old chocolate can't solve, and that includes burning fat. Dark chocolate has about 70% to 85% cacao content.

A rich source of antioxidants and flavonoids, dark chocolate can reduce inflammation and protect cells from oxidative damage. Eating 30 to 40 grams of dark chocolate daily is recommended to reap its health benefits. Anything in excess can counter your weight loss efforts.

In moderation, dark chocolate can help you lose weight. It contains monounsaturated fatty acids that increase metabolism and burn calories rapidly. In addition, dark chocolate curbs cravings when eaten 20 minutes before a meal.

Interestingly, dark chocolate's magnesium and antioxidants relieve pain and encourage one to work out. Those who are trying to lose weight may benefit from this.
Stubborn pockets of fat can be a source of frustration for those looking to achieve their body transformation goals. Fortunately, there is a solution–Tickle Lipo.
Combine Fat-Burning Foods with Liposuction in Woodlands, TX
Burn more fat easily with liposuction! Here at the Woodlands Wellness & Cosmetic Center, we offer a remarkable liposuction technique called Tickle Lipo.
It's a new, less-invasive way to remove excess fat from targeted body areas using infrasonic technology.
This procedure removes excess fatty deposits without causing significant trauma to surrounding tissues. Using the proper technique and technology is essential for achieving this goal.
Be Summer Ready with Liposuction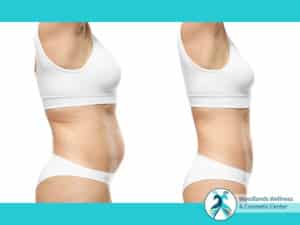 It's spring, and summer months are just around the corner. Look and feel more confident with liposuction at Woodlands Wellness & Cosmetic Center.
Contact us today at 281-362-0014 for a consultation. The Woodlands Wellness & Cosmetic Center specializes in functional and regenerative medicine and cosmetic procedures.
Discover what our patients have to say about our liposuction treatments at Woodlands: click here!