Two Options To Get Rid of Acne Scars And Have Clear Skin Again
As if pimple breakouts are not frustrating enough, now you have to deal with the dark spots and scars that pimples leave behind, even if you don't pick at them!
Some acne scars are even depressed into the skin, giving it a rough and uneven texture. Do you consider looking for an acne scar removal treatment?
There are a lot of over-the-counter products that may help in removing acne scars. However, these products may work differently on some skin types and types of acne scars. Acne scars penetrate the skin on a deeper level and damage the tissues beneath it.
Some OTC products just don't go as deep. And how will you know if these OTC products will help you with acne scars or just cause another breakout? This is where professional acne scar removal treatments will help you.
What Is Acne Scar Removal?
Say goodbye to acne scars and dark spots. Acne scar removal treatment removes acne scars and hyperpigmentation and improves uneven skin texture. There are various acne removal treatments available nowadays to address your skin concerns. But of course, we want a safe and effective way to remove acne scars to reveal rejuvenated, flawless, and radiant skin.
Clinical management of acne scars is important. Compared to home remedies and over-the-counter skin care products, professional acne scar removal treatments are much more targeted to your skin condition. They also have higher success rates than OTC skin care products, so you will achieve your desired results in a shorter period of time. 
Get ready to say goodbye and "see you never" to your dark spots, thanks to acne scar removal treatments!
What Are The Options In Removing Acne Scars?
Removing acne scars may be a daunting experience for some, especially if you do not know what to do. Thankfully, various professional acne scar removal treatments are available so you can choose the best non-invasive treatment for you. 
The most popular acne scar removal treatments use microneedling (think tiny needles), lasers, or topical acids. We know how intimidating needles might be for some, so an alternative would be the use of lasers.
Both treatments are just as safe and effective as the other, require minimal to no downtime, and both will give you clearer and brighter skin. Treating acne scars require different approaches. Sometimes, there are multiple types of scars, so professional treatment is the best way to get rid of them. 
So how do you choose between a laser treatment and a microneedling treatment to remove your acne scars?
Laser treatments are non-surgical treatments that remove the topmost skin layer (via laser) to reveal newer and smoother skin to grow in place of it. They are non-invasive treatments, and you will notice excellent results a few weeks after the treatment.
Pearl Fractional Laser – A laser treatment that targets moderate to severe sun damage and aging skin. Pearl Fractional laser helps reduce wrinkles and correct uneven texture and discoloration, giving you renewed skin.

Clear + Brilliant – Another popular and gentle laser resurfacing treatment that helps rejuvenate the skin by addressing signs of aging and sun damage.
Needle treatments are minimally invasive but still effective in removing acne scars. Tiny punctures on the skin are made to facilitate the growth of new skin underneath and stimulate collagen production.
Skin Pen – Skin Pen is a microneedling tool that creates tiny holes in the skin and stimulates the production of collagen and elastin. Not only does it help remove acne scars, but it also improves fine lines and wrinkles.

Secret RF – Secret RF is a novel fractional radiofrequency (RF) microneedling system which stimulates tissue coagulation and collagen production. Collagen is a protein responsible for the skin's elasticity. This is particularly effective for treating scars and wrinkles.
But what if I don't want either laser or microneedling treatments? Then chemical peels might be the best for you, as they require no downtime at all. You may see micro peeling of the skin a few days after the treatment.
Chemical peels

– These peels make use of strong acids, such as salicylic acid and glycolic acids, to help remove the topmost layer of the skin, including dead skin cells, to reduce deeper acne scars. 
Acne scars are just annoying. Not only does it affect your physical appearance, but it also lessens self-confidence. People dealing with acne often have concerns about social interactions and going out in public.
Needless to say, acne breakouts and acne scars hamper our day-to-day activities.  
Types Of Acne Scars
Not all types of acne scars are the same, and treating them also requires different approaches. Some treatments work better on certain types of acne scars compared to other treatments.
So the first step to saying goodbye to those hideous scars is to determine what acne scars you have. The next step is to visit a skin expert so he/she can suggest the best treatment for your acne scars.
Atrophic scars – These are usually found on the face. If you pop your zits, it will leave depressed scars (think: crevices and pits) that sit below the surrounding skin. This gives an uneven skin texture.

Hypertrophic scars – These are raised scars that formed when the wound healing process was haphazard, so there was too much collagen production, and they showed up as excess skin growth. Keloids are also hypertrophic scars.

Acne blemishes – Not all acne leaves behind scars, but just discoloration on the skin. Some leave behind either red marks or dark spots.
Rejuvenate your skin and free yourself from acne scars! Choose from a wide array of treatments to help improve the appearance of acne scars.
Acne Scar Treatments At Woodlands Wellness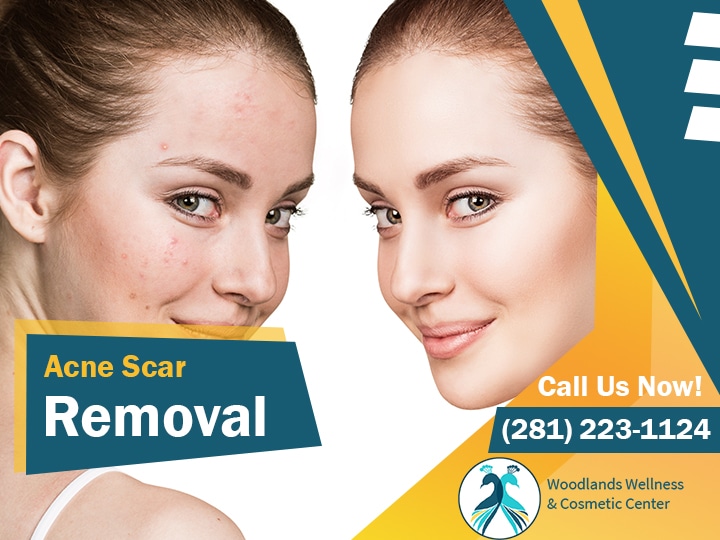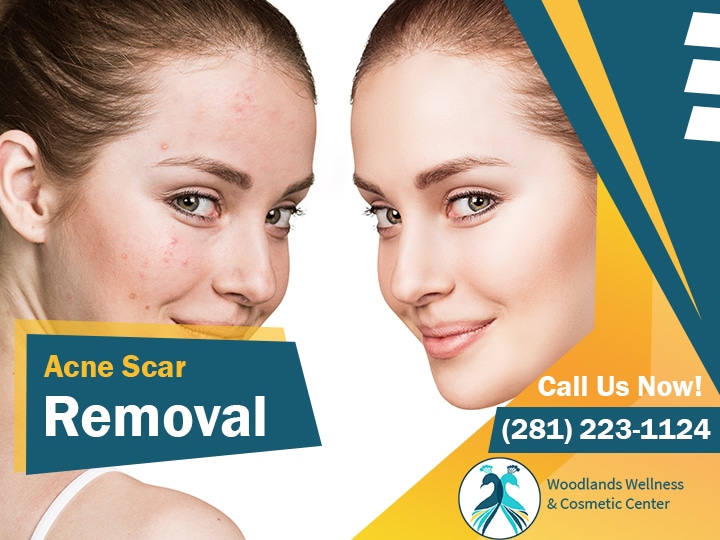 Our acne scar removal treatments are safe and effective in giving you improved skin texture and glowing skin.
Our procedures only take 30 to 60 minutes and do not require any downtime!
We will provide you with post-treatment care instructions to maximize the benefits of acne scar removal treatments. The "best way" to prevent acne scars is to treat and prevent breakouts from occurring in the first place.
When you do have breakouts, resist the urge to squeeze and pick your pimples. Maintain a good skincare regimen, eat healthily, and enjoy a visit or two at Woodlands Wellness & Cosmetic Center.
We understand how different skin types and skin concerns work, and we are here to help you. At Woodlands Wellness & Cosmetic Center, we will help you find the most suitable acne scar removal treatment for you to reduce the appearance of scars.
We will also create a treatment program for you, including the use of post-treatment products at home, so you can maximize the effects of acne scar removal treatment. We are a premier medical spa in Woodlands, TX.
Our practice is proud to offer the latest advancements in medical aesthetics. We specialize in regenerative and functional medicine. Our unique approach identifies and resolves underlying health problems that affect both the body and the mind. 
We also offer various different cosmetic procedures. We believe in focusing on the root cause of symptoms and aging, so we can help restore youth and vitality. Our clinic's full range of aesthetic treatments will help address your concerns and will help you achieve your aesthetic goals without surgery. 
Contact us today at 281-362-0014 for a complimentary consultation to a better version of you.