Dermaplane Facial
Dermaplane Facial | Woodlands TX
Dermaplane facial is a cosmetic procedure that exfoliates the top layers of the skin using a sterile blade to reveal a younger and fresher skin layer underneath.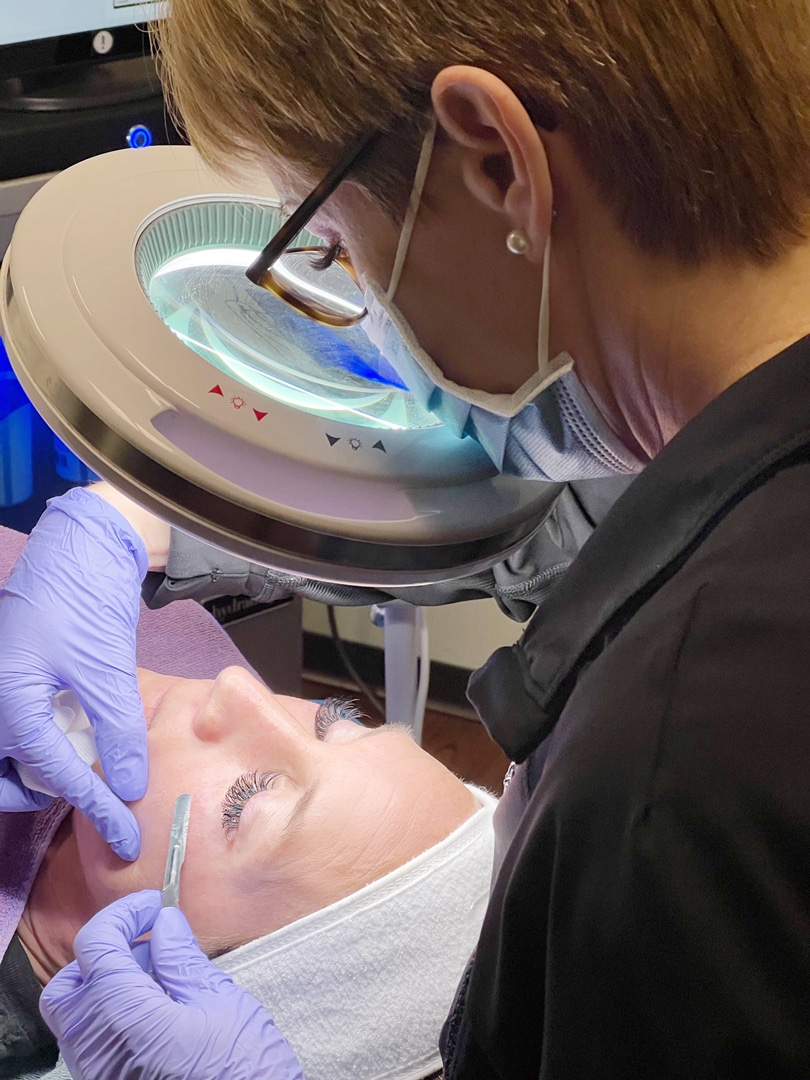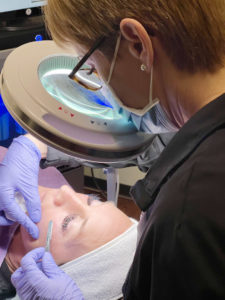 This procedure is one of the most effective solutions for dealing with dull and uneven tone revealing baby soft, smooth skin underneath.
It is proven to be safe and effective in improving the look and health of the skin after one session.
At Woodlands Wellness & Cosmetic Center, our team of certified dermaplane specialists will help you in keeping your skin at its youthful best.
Dermaplane facial is a safe and gentle way to exfoliate your skin to give you refreshed and healthier-looking skin with a radiant glow.
Dermaplane facial is one of the most effective solutions for dealing with dull and uneven tone revealing baby soft, smooth skin underneath
Benefits Of Dermaplane Facial
Dermaplane facial lightly exfoliates the skin and removes dirt trapped between the hair. It also removes very fine hair from the skin aka "peach fuzz." Dermaplaning gives a clearer, more radiant, and smoother appearance. This treatment is gentle enough for all skin types. Regular dermaplaning will also help slow down the effects of aging.
Improved skin tone – Say goodbye to dullness due to old skin cells, as dermaplane facial procedure helps reveal a smoother skin surface and brighter skin tone
Removes acne scars By removing the top layer of the skin, dermaplaning significantly reduces the appearance of acne scars by removing discoloration and uneven texture.
Counters sun damage – Constant sun exposure, without sunscreen protection, damages the skin by photoaging. Brown flat spots on the skin are usually the results of photoaging. Dermaplaning removes sun-damaged skin by exfoliating the topmost layer of the skin, allowing the healthy skin underneath to surface.
Increased skin permeability – As dead skin cells are removed, skincare products will better penetrate the skin making them more effective.
How Does Dermaplane Facial Work?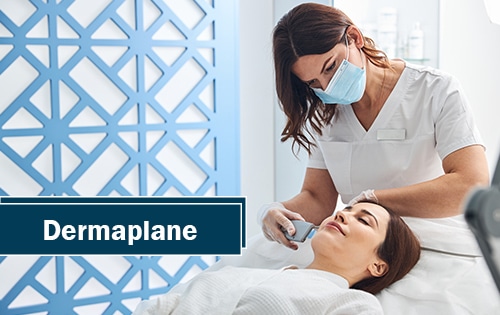 Dermaplane facial is a non-invasive and well-tolerated exfoliating treatment aimed to rejuvenate the skin tone revealing a brighter complexion.
During a dermaplane facial session, the outermost layer of the skin is removed, including dead skin cells and deep-seated dirt, yielding clearer and younger-looking skin.
It is a more thorough and skin-safe version, as only a certified professional is allowed to perform it. An aesthetician will perform the procedure at the office, and the entire treatment usually takes on average 30 minutes.
After cleansing the face with an antiseptic agent, the aesthetician will gently scrape the surface layers of the skin using a sterile scalpel blade. Dead skin cells and dirt trapped between the hairs of the face are removed during the process.
Dermaplane facial may be done once every 4 to 6 weeks (as this is the length of the skin cycle). Over time, multiple sessions will provide you with a more radiant, clearer, and younger-looking skin. Once the dead skin cells are removed, it will reveal smoother and brilliant skin. At Woodlands Wellness & Cosmetic Center, we will help you achieve improved skin texture and appearance through dermaplaning.
What To Expect After Dermaplane Facial Session?
Before any procedure, an assessment of your family and medical history will be done. We will also discuss your goals and desired results, so we can determine if a dermaplane facial is suitable for you. As with any medical treatment or procedure, the results of dermaplaning may vary per person. In general, you will notice softer and brighter skin right after the treatment.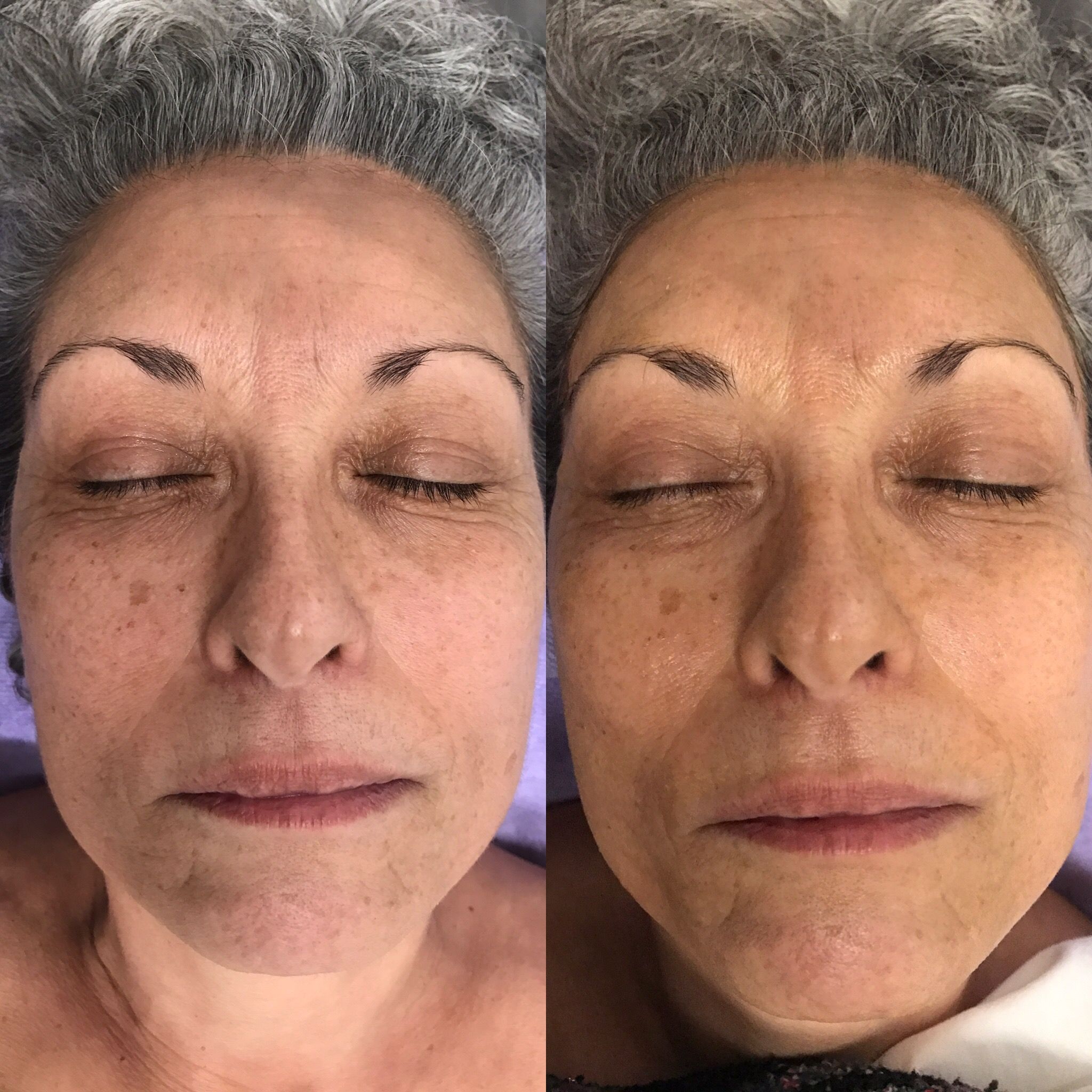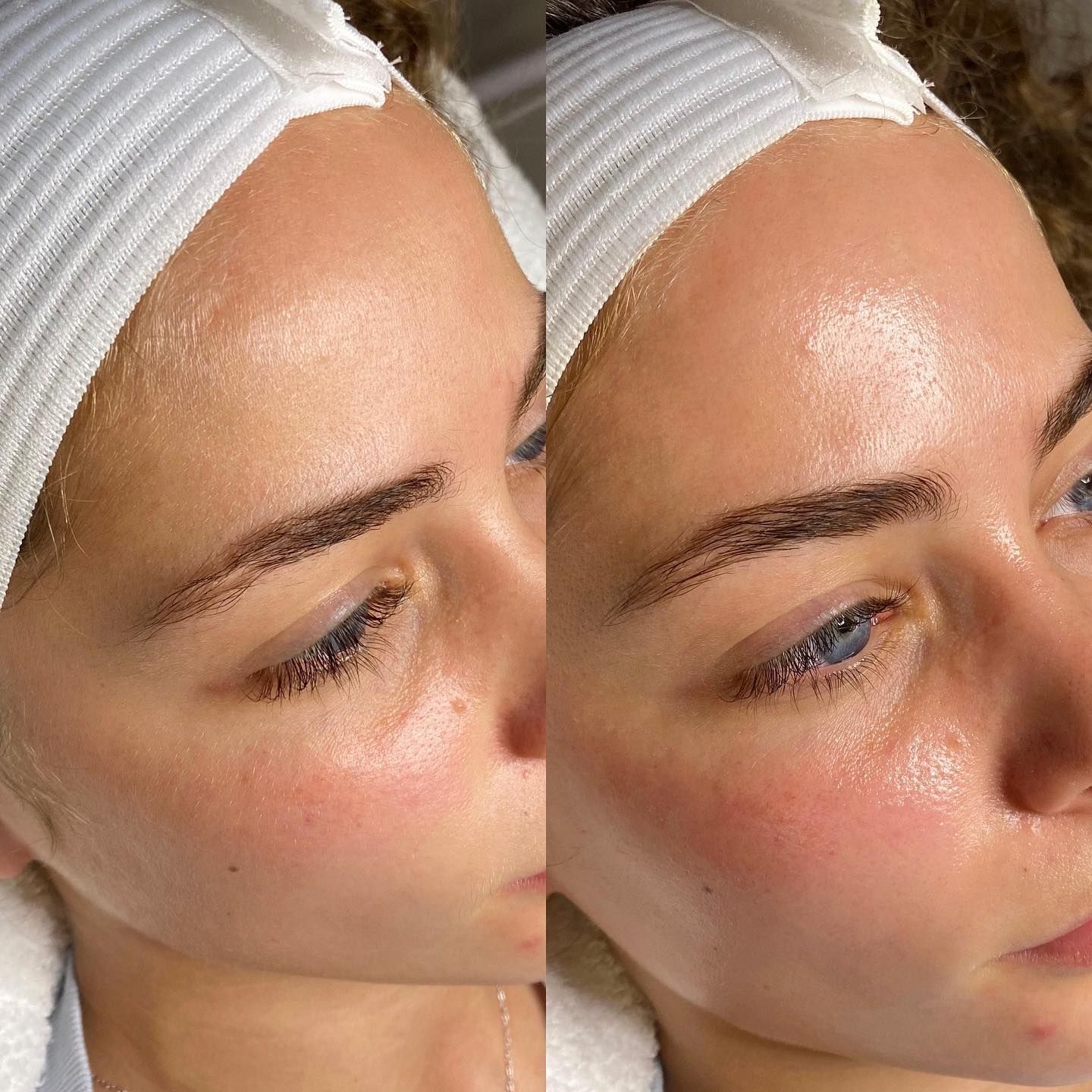 Each treatment session takes about 30 minutes. After the dermaplane procedure, a soothing gel and sunblock will be applied to your skin. Right after the procedure, your skin will feel a lot smoother. Your face will also experience slight redness on the treated area but will disappear in the next few hours or so.
This is a quick and gentle procedure; there is zero downtime or recovery time so you can go back to your daily activities right away. You can even wear makeup right after dermaplaning! It will actually glide on super smoothly. Do not forget to follow post-treatment care recommended by the aesthetician to help prolong the benefits of dermaplaning.
To maintain your youthful glow and maximize the effects of the treatment, a monthly dermaplane facial session is recommended. Do not forget to apply sunblock daily and to limit sun exposure, as it may hinder the effects of dermaplaning.
Be on-trend and discover the benefits of dermaplane treatment thanks to Woodlands Wellness & Cosmetic Center! Contact us today at 281-362-0014 for a consultation to take that first step to enjoy younger-looking and radiant skin.
Common Questions About Dermaplane Facial

Is dermaplane facial good for the skin?
Yes, dermaplaning is good for the skin. It helps by removing dead skin cells revealing more radiant and clearer skin. It is a safe and effective way to exfoliate giving you rejuvenated skin.

Can I dermaplane my own face?
Conducting the treatment on your own may not yield the same results compared to doing it by an expert aesthetician. Moreover, experts at Woodlands TX are certified to perform dermaplane facial to prevent side effects.

Should I moisturize after a dermaplane facial?
Follow the post-treatment care advice from your aesthetician to maximize the benefits of the treatment. For two weeks, it's best to follow a simple skincare routine: cleanse your face with a mild cleanser, and apply moisturizer and skin serums (especially ones with hyaluronic acid) to prolong the effects of dermaplaning.

Is it better to wax or dermaplane?
Dermaplaning exfoliates the skin first then removes hair. Dermaplaning gives you an instant glow and helps skincare products penetrate your skin better. Waxing removes unwanted hair then exfoliates the skin. They have different objectives, so it is better to determine which treatment is aligned with your beauty goals.
Hear what people are saying about us. Read the amazing reviews and testimonials from real-life patients we help every day. Woodlands Wellness and Cosmetic Center amazing anti-aging treatments are nothing short of life-changing.
I've been seen Dr Sakina Davis for about 15 years now, she is very professional and spends enough time with you to treat the 'whole you', everything is connected and balancing hormones helps to treat and prevent many conditions. Her experience with bio-identical hormones proved invaluable for that particular stage of my life when I needed it the most. She is always up to date with new treatments coming up and this cutting edge medicine she practices has helped, also, with my back pain issues, allowing me to avoid a fusion surgery and still be able to function. Her staff is super efficient, nice to deal with and first class. AAA+
I've been seeing Dr. George for 10 years and absolutely love him and the staff. He always has your best interest at heart and does everything possible to achieve your goals and produce positive results. Wouldn't go anyplace else for my cosmetic needs!

This has been one of the most rewarding experiences I have ever had in a medical setting. The doctors and staff are the most professional, personable, and talented providers I have met. The results are phenomenal and went way beyond my expectations. I can honestly say that the value of the services have been fantastic and I would do it all over again...but I do not need to because it was done right the first time. :). I highly recommend Woodlands Wellness & Cosmetic Center!