GAINSWave Therapy | The Woodlands TX
A breakthrough, drug-free, surgery-free treatment for ED and improved sexual performance!
Treat ED and Improve Sexual Performance Without Drugs or Surgery!
You deserve to enjoy an active and healthy sex life at any age! But, unfortunately, as men age, it is not uncommon to experience some form of erectile dysfunction or other sexual health issues.
You do not have to accept ED as a part of getting older. If you cannot take oral ED drugs, or have been dissatisfied with the results, and think that you are out of options, we have a pain-free alternate treatment you need to know about.
GAINSWave treatment is a safe, comfortable, and effective procedure designed for men of all ages looking to optimize sexual performance and reverse the effects of Erectile Dysfunction (ED).
The GAINSWave has been clinically proven to help any man — not just those with erectile dysfunction – to obtain and maintain stronger erections.
There are many benefits of using the GAINSWave Treatment
Ideal for Men Who Cannot Take Oral ED Drugs – Just about any man looking for a "bedroom boost" can benefit from the GAINSWave Treatment. But, it is ideal for men who cannot take oral ED medications or men suffering from diabetes, heart disease, or high blood pressure.
Noninvasive – The GAINSWave uses mild acoustical waves. It is practically pain-free and completely noninvasive. There is no need for any kind of sedation or anesthesia during the procedure. All you may experience is a mild pulsating sensation, but most patients do not feel anything at all!
Drug-Free and Convenient – The GAINSWave is completely drug-free. There are no prescriptions to fill or refill. It is safe for all men, and unlike oral ED medications, it has little or no known side effects. There are no pills to pop. GAINSWave restores spontaneous erections, so you are ready to go whenever the moment strikes.
Proven Results – The results of the GAINSWave treatment are proven and long-lasting. 86% of men receiving this remarkable treatment saw a reversal of their condition, and 80% of all patients report positive results and improved sexual performance!
GAINSWave Therapy is Ideal For: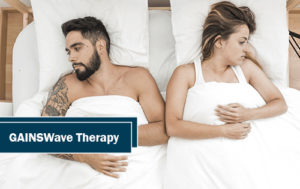 Men who cannot take Viagra or other oral ED medications because of diabetes, heart disease, or high blood pressure
Men who have experienced side effects or poor results with oral ED medications
Men without ED who would just like an improved sex life without the use of drugs
GAINSWave Therapy also treats Peyronie's Disease. Men with Peyronie's disease have a curvature of the penis that is the result of scar tissue. GAINSWave Therapy can break gently break down this scar tissue and reverse the effects of Peyronie's disease without the use of drugs or surgery!
What Makes Us Different?
At Woodlands Wellness, we realize that not all patients with erectile dysfunction will have the same set of symptoms or the same health and wellness goals. We will tailor your ED treatments to your unique needs and lifestyle to maximize your benefits and optimize your results.
Our medical director and the entire staff at Woodland Wellness are committed to making sure that all of our clients receive expert care from providers who specialize in regenerative and functional medicine. This unique approach identifies and resolves underlying health problems that affect both body and mind. Functional medicine boosts overall wellness and addresses cosmetic concerns.
In addition to ED Treatments, we proudly offer our male patients the following services:
In addition to hormone replacement, clients at Woodlands Wellness and Cosmetic Center also have access to a full range of aesthetic treatments. The practice specializes in anti-aging services, including Botox®, injectables, chemical peels, and skin tightening treatments. Woodlands Wellness and Cosmetic Center also offer state-of-the-art procedures like CoolSculpting® to help clients achieve their aesthetic goals without surgery.
Our goal is to help as many people as we can age optimally and continue to enjoy all the things they love about life!
Contact us today at 281-362-0014 for a free consultation to see how you can benefit from GAINSWave Therapy or any of the anti-aging services offered by Woodlands Wellness and Cosmetic Center.
Common Questions About Hormone Replacement Therapy

What Is Erectile Dysfunction?
Technically, ED or erectile dysfunction is defined as "the persistent inability to achieve or maintain an erection that is satisfactory for sexual intercourse." But, from a practical standpoint, we know that the condition does not need to be chronic or "persistent" to negatively impact your sex life. Any degree of ED can cause trouble in the bedroom, and any degree of ED can and should be treated.

How Is GAINSWave Therapy Used to Treat ED?
GAINSWave Therapy for erectile dysfunction uses pulsed sound waves to open old, clogged blood vessels and create new blood vessels, to increase blood flow to the penis. As you get older, the blood vessels that supply blood to your penis begin to collapse or break down. Good blood flow is essential to erectile function. Basically, the acoustic waves of the GAINSWave Therapy stimulate increased blood flow to the penis by opening existing blood vessels and stimulating the growth of new ones. Increased blood flow results in stronger, harder, and more sustainable erections.

What are the Advantages of GAINSWave Therapy?
As Opposed to Other ED or Male Enhancement Treatments, GAINSWave Therapy is:
Is drug-free and surgery-free
Is completely noninvasive, and has little or no known side effects
Is a simple in-office procedure, with each treatment taking only 20 – 30 minutes
Provides long-lasting results with little or no downtime

Does GAINSWave Therapy Hurt?
No, absolutely not. The acoustical waves are very mild, and a numbing cream is used first, so the procedure has little or no discomfort whatsoever.

What Kind of Results Can I Expect From GAINSWave Therapy?
As with any medical procedure, your individual results with GAINSWave Therapy for ED will vary. At NuLife, we have had mostly positive results since introducing the GAINSWave treatment for ED. Depending on your age, medical history, and extent of your ED, we may combine GAINSWave Therapy with other ED treatments, such as Platelet Rich Plasma, to maximize the effectiveness of your acoustic wave treatment.
Hear what people are saying about us. Read the amazing reviews and testimonials from real-life patients we help every day. Woodlands Wellness and Cosmetic Center amazing anti-aging treatments are nothing short of life-changing.
I've been seen Dr Sakina Davis for about 15 years now, she is very professional and spends enough time with you to treat the 'whole you', everything is connected and balancing hormones helps to treat and prevent many conditions. Her experience with bio-identical hormones proved invaluable for that particular stage of my life when I needed it the most. She is always up to date with new treatments coming up and this cutting edge medicine she practices has helped, also, with my back pain issues, allowing me to avoid a fusion surgery and still be able to function. Her staff is super efficient, nice to deal with and first class. AAA+
I've been seeing Dr. George for 10 years and absolutely love him and the staff. He always has your best interest at heart and does everything possible to achieve your goals and produce positive results. Wouldn't go anyplace else for my cosmetic needs!

This has been one of the most rewarding experiences I have ever had in a medical setting. The doctors and staff are the most professional, personable, and talented providers I have met. The results are phenomenal and went way beyond my expectations. I can honestly say that the value of the services have been fantastic and I would do it all over again...but I do not need to because it was done right the first time. :). I highly recommend Woodlands Wellness & Cosmetic Center!