HydraFacial® | Woodlands TX
HydraFacial At Woodlands Wellness & Cosmetic Center
HydraFacial skin renewal treatment cleanses, detoxifies, exfoliates, extracts, and hydrates your skin in one visit. At Woodlands Wellness & Cosmetic Center, we offer HydraFacial treatment, which is a non-invasive treatment to reveal a glowing, smoother, and healthier skin.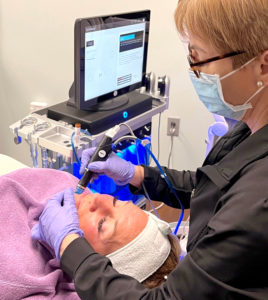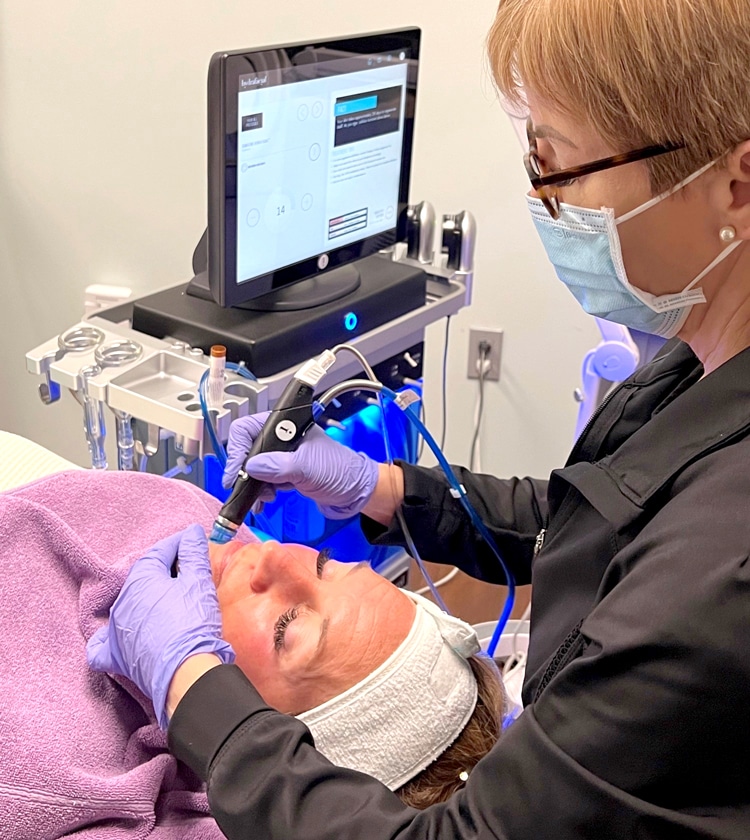 Cleansing and applying moisturizer daily may not be enough to help you hydrate and nourish your skin.
Dirt and makeup residue not removed by normal cleansers get clogged into our skin, yielding uneven skin tone, dullness, and uneven pigmentation.
Addressing these skin concerns will result in a glowing and healthier skin.
HydraFacial is just as effective as other common skin resurfacing procedures like microdermabrasion. What sets HydraFacial apart is that it is a safe and non-irritating treatment for all skin types; it is so gentle that people with sensitive skin and acne-prone skin can undergo this treatment as well.
HydraFacial is a deeply hydrating and nourishing facial that is safe and gentle even for the most sensitive skin
Benefits of HydraFacial Treatment
Woodlands Wellness & Cosmetic Center specializes in HydraFacial, which is a medical-grade skin resurfacing treatment. It is a safe treatment that even people with sensitive and acne-prone skin may undergo this procedure.
HydraFacial has a patented delivery system that helps exfoliate, cleans out your pores, and hydrates the skin. A serum formulation with nourishing antioxidants and peptides is infused into the skin for its anti-aging and hydration properties. Serums are formulated to address your skin concerns, such as fine lines and wrinkles, enlarged pores, and reduced elasticity.
Hydrates and brightens the skin – HydraFacial provides hydration, which is the single most important factor in healthy skin. HydraFacial rejuvenates the skin by hydrating it; say goodbye to dry, scaly, flaky, or peeling skin. It will give you a more hydrated and brighter skin.
Unclogged Pores – HydraFacial makes use of chemical exfoliants to remove dead skin cells and excess oil from the skin. Chemical exfoliants are applied to break up deep seated dirt and oil from clogged pores. Unclogged pores also help prevent acne, blackheads, and whiteheads.
Improved skin tone and hydration – After clearing impurities from the skin, HydraFacial will reveal clear and glowing, improved skin tone.
Restores and firms the skin – Hydrating nutrients help nourish the skin. HydraFacial also helps stimulate collagen production yielding a firmer and more supple skin.
Helps calm the skin – Nourishing antioxidants and peptides infused into the skin calms and hydrates the skin, giving a tighter and even skin tone.
How HydraFacial Treatment Works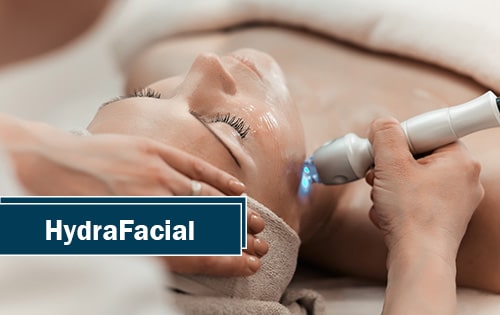 HydraFacial is a non-invasive treatment to help you give a nourished and healthy skin.
At Woodlands Wellness and Cosmetic Center, an aesthetician will use a patented Vortex-Fusion delivery system to exfoliate, extract, and hydrate the skin.
During the procedure, the skin is cleansed and exfoliated using physical and chemical exfoliants (salicylic or glycolic acid for skin resurfacing depending on your needs).
This will uncover a fresh layer of skin. The HydraFacial delivery system painlessly removes dead skin cells and debris from clogged pores. The same device infuses the skin with intense moisturizers to quench the skin. Finally, your skin will be saturated and nourished with a custom blend of antioxidants and peptides to help maximize your glow.
Results from only one HydraFacial session are almost instant! You get luminous, rejuvenated, and nourished skin. You may maintain your glowing and nourished skin with multiple sessions (recommended is one every 4 weeks). Overtime, you will notice increased suppleness, reduced fine lines and wrinkles, improved hydration, and more radiant, glowing skin.
Good Candidate For HydraFacial
Anyone who wants to deep clean their skin is a good candidate for HydraFacial. Other skin conditions that HydraFacial may target include:
Sensitive skin
Fine lines and wrinkles
Brown spots
Acne
Oily and congested skin
Enlarged and clogged pores
Dull and uneven skin tone
Reduced elasticity and firmness
What To Expect After The Treatment
Depending on your specific skin concerns and beauty goals, the entire procedure usually takes between 30 to 60 minutes. Right after the first treatment session, you may notice smoother, softer, and younger-looking skin. Multiple sessions may also be necessary to achieve your desired results. Overtime, you will notice a more radiant, even skin tone, with reduced fine lines and wrinkles.
HydraFacial is a quick and non-invasive treatment with no downtime, so you can return to your normal activities right away. After the procedure, some people experienced slight redness, which usually quickly subsides.

Detoxify and nourish your skin to give you a radiant, healthy, and youthful appearance. At Woodlands Wellness & Cosmetic Center, we offer the HydraFacial treatment to give you clearer, smoother, and healthier skin.
Contact us today at 281-362-0014 for a consultation and take that first step to a more confident and attractive version of yourself.
Common Questions About HydraFacial

Are Hydrafacials Good For Your Face?
Yes, HydraFacials are good for your face. It hydrates, exfoliates, and nourishes your skin to give you smoother, clearer, and healthier skin.

How Long Do The Results Of Hydrafacial Last?
Cosmetic results from HydraFacial may vary per person. Generally, results last anywhere from 4 to 6 weeks. You may schedule a monthly HydraFacial treatment to maintain your clear and glowing skin.

How Often Should I Get A Hydrafacial?
Although results are almost instant, multiple sessions may be required to maintain your clear and glowing skin. HydraFacial treatments are recommended every four weeks to maximize HydraFacial's skin-boosting benefits.

How Is Hydrafacial Different From Diamondglow?
DiamondGlow treatment makes use of physical exfoliation, while HydraFacial is a chemical exfoliation procedure. Both are wonderful treatments available at Woodlands Wellness & Cosmetic Center.

Is There Downtime With Hydrafacial?
HydraFacial is a non-invasive chemical exfoliation treatment with no downtime. You can resume your daily activities right after the treatment.
Hear what people are saying about us. Read the amazing reviews and testimonials from real-life patients we help every day. Woodlands Wellness and Cosmetic Center amazing anti-aging treatments are nothing short of life-changing.
I've been seen Dr Sakina Davis for about 15 years now, she is very professional and spends enough time with you to treat the 'whole you', everything is connected and balancing hormones helps to treat and prevent many conditions. Her experience with bio-identical hormones proved invaluable for that particular stage of my life when I needed it the most. She is always up to date with new treatments coming up and this cutting edge medicine she practices has helped, also, with my back pain issues, allowing me to avoid a fusion surgery and still be able to function. Her staff is super efficient, nice to deal with and first class. AAA+
I've been seeing Dr. George for 10 years and absolutely love him and the staff. He always has your best interest at heart and does everything possible to achieve your goals and produce positive results. Wouldn't go anyplace else for my cosmetic needs!

This has been one of the most rewarding experiences I have ever had in a medical setting. The doctors and staff are the most professional, personable, and talented providers I have met. The results are phenomenal and went way beyond my expectations. I can honestly say that the value of the services have been fantastic and I would do it all over again...but I do not need to because it was done right the first time. :). I highly recommend Woodlands Wellness & Cosmetic Center!