Hyperpigmentation Treatment | Woodlands TX
Hyperpigmentation Treatment At Woodlands Wellness & Cosmetic Center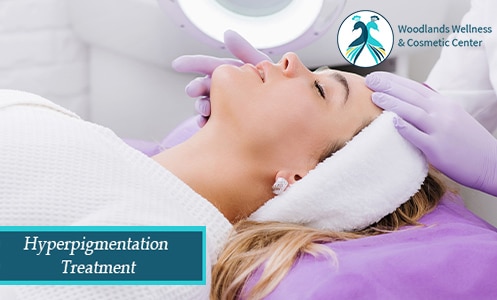 Various hyperpigmentation treatments are available at Woodlands, TX, to fade dark spots and pigmentation on the skin, revealing a flawless glow.
Hyperpigmentation is when a patch of skin becomes darker than the rest of the skin around it.
Hyperpigmentation is caused by melanin deposits, the brown pigment that produces skin color.
Hyperpigmentation is a skin condition that affects people of all ages, genders, and ethnicities. 
Woodlands Wellness and Cosmetic Center offer hyperpigmentation treatment to reduce age spots, melasma, post-inflammatory hyperpigmentation, and freckles.
We recognize that there is no one-size-fits-all solution for hyperpigmentation since there are different causes of hyperpigmentation. Providing you with the best treatment comes down to targeting the root cause of hyperpigmentation. Our treatments are specifically tailored to meet the needs of the patient.
Our non-invasive hyperpigmentation treatments will give you a more youthful complexion!
Benefits of Hyperpigmentation Treatment in Woodlands TX
Our different treatments provide long-lasting results for a clearer, more even complexion by addressing the root cause of hyperpigmentation. Our hyperpigmentation treatments are safe and effective in improving the color and texture of the skin due to sun damage and aging.
Evens out skin tone

– brightens and smoothens the skin, and reduces dark spots. You can expect your skin tone to become more even after one treatment!

Minimizes the appearance of dark spots

– makes age spots, freckles, and brown spots look less noticeable. This will give you a younger-looking complexion. 

Boosts collagen production

– stimulates collagen production. The amino acids found in collagen promote skin hydration and reduce the appearance of melasma and hyperpigmentation. 

Enhance the skin's appearance

– 

By stimulating collagen production and the growth of new skin cells, hyperpigmentation improves the skin's overall texture. This minimizes the appearance of fine lines and wrinkles on the skin, keeping it young-looking and fresh! 

Non-invasive

– We offer non-surgical hyperpigmentation treatments. We use minimally invasive or non-invasive techniques that do not leave scars or cause infection. 

Minimal downtime

– The downtime after our treatment is minimal. Patients can return to their normal activities after a short recovery time, but always remember to use sun protection! 
How Does Hyperpigmentation Treatment Work?
Woodlands Wellness & Cosmetic Center offers a variety of safe and effective hyperpigmentation treatments. 
Chemical Peels

– Our hyperpigmentation treatment may involve chemical peels such as

VI Peels

and

PRX Glow Peel

. Aside from hyperpigmentation, these treatments help target different skin issues such as acne and uneven skin tone. Our chemical peels will leave you a more flawless and radiant skin.

Laser Genesis Facial –

At Woodlands, we provide Laser Genesis, a non-invasive procedure that uses a laser to stimulate new cell growth and collagen production. This excellent treatment helps restore the skin's youthful glow and appearance by improving brown spots, hyperpigmentation, and redness.

Permea Laser with PRP

– Surface pigments, sun damage, and texture are targeted by the Permea laser. The procedure is combined with platelet-rich plasma (PRP) therapy to encourage healthy cellular activity to reduce hyperpigmentation. This further addresses hyperpigmentation concerns leaving you with a smoother and younger-looking complexion. 

Prescription medicines for hyperpigmentation

– Our hyperpigmentation treatment in Woodlands include topical and oral prescription medicines. These medicines have been clinically proven to lighten dark patches on the skin. 

Medical Grade Skincare Products – In addition to the above-mentioned treatment options we also provide our professional-grade cosmeceuticals that contain higher concentrations of active ingredients that treat your skin at the cellular level, providing direct anti-aging benefits and brightening hyperpigmentation.
We offers a variety of treatments designed to eliminate dark spots, age spots, and sunspots from your skin. This will leave you a smoother and brighter complexion in no time!
What To Expect After Hyperpigmentation Treatment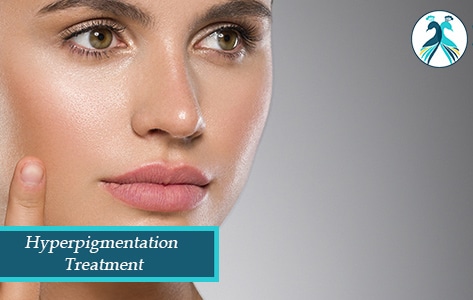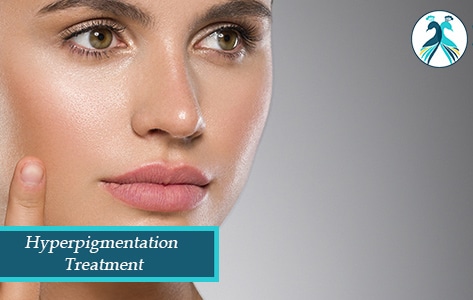 Based on your family history and medical history, we will determine the best hyperpigmentation treatment plan once we have accurately diagnosed you.
Additionally, we will discuss your goals and preferences to provide realistic expectations regarding your treatment.
The treatment regimen you will receive is based on the kind and severity of your hyperpigmentation.
The results of this procedure may vary from person to person, like any medical treatment or procedure. 
Our hyperpigmentation treatments are quick and do not require surgery. Minimal downtime and side effects are almost non-existent. Our treatments will leave you with an even complexion and glowing skin! Your results may vary depending on your situation.
Reveal Younger-looking Skin with Hyperpigmentation Treatment in WWCC
Our goal is to help you be more confident about yourself by refining your skin's appearance! At Woodlands Wellness & Cosmetic Center, we provide various hyperpigmentation treatments to give you glowing, flawless, and healthy skin. 
Contact us today at 281-362-0014 for a complimentary consultation and take that first step to a more confident and attractive version of yourself. 
Common Questions About Hyperpigmentation Treatment

How can I remove hyperpigmentation permanently?
Lasers and medications are among the treatments available for hyperpigmentation. At Woodlands Wellness & Cosmetic Center, we offer hyperpigmentation treatments, such as chemical peels, lasers, topical medications, and oral medications to reduce the appearance of hyperpigmentation.

Does laser treatment for hyperpigmentation cause downtime?
In addition to being very gentle, the laser hyperpigmentation treatments are specifically designed to minimize any side effects associated with laser treatments. Mild redness and slight inflammation may occur immediately after treatment. These generally go away within a few hours but may last until the next day.

Is a chemical peel good as a hyperpigmentation treatment?
Our chemical peels at Woodlands Wellness & Cosmetic Center use acids at stronger concentrations to treat the desired area. The epidermis is removed to reduce the appearance of hyperpigmentation. More intensive versions may also penetrate deeper into your skin (dermis) for more dramatic results.

How does PRP work as a hyperpigmentation treatment?
PRP therapy harnesses the body's ability to heal. A series of small injections are administered to encourage healthy cellular activity and reduce hyperpigmentation by using the growth factors in your blood.
Hear what people are saying about us. Read the amazing reviews and testimonials from real-life patients we help every day. Woodlands Wellness and Cosmetic Center amazing anti-aging treatments are nothing short of life-changing.
I've been seen Dr Sakina Davis for about 15 years now, she is very professional and spends enough time with you to treat the 'whole you', everything is connected and balancing hormones helps to treat and prevent many conditions. Her experience with bio-identical hormones proved invaluable for that particular stage of my life when I needed it the most. She is always up to date with new treatments coming up and this cutting edge medicine she practices has helped, also, with my back pain issues, allowing me to avoid a fusion surgery and still be able to function. Her staff is super efficient, nice to deal with and first class. AAA+
I've been seeing Dr. George for 10 years and absolutely love him and the staff. He always has your best interest at heart and does everything possible to achieve your goals and produce positive results. Wouldn't go anyplace else for my cosmetic needs!

This has been one of the most rewarding experiences I have ever had in a medical setting. The doctors and staff are the most professional, personable, and talented providers I have met. The results are phenomenal and went way beyond my expectations. I can honestly say that the value of the services have been fantastic and I would do it all over again...but I do not need to because it was done right the first time. :). I highly recommend Woodlands Wellness & Cosmetic Center!