Medical Weight Loss Program | Woodlands, TX
Medical Weight Loss at Woodlands Wellness & Cosmetic Center
Trying to lose weight but gaining it back afterwards may be a familiar experience. It's likely that you've tried your share of fad diets, weight loss programs, and exercise routines. Maybe the entire weight loss process might be overwhelming for you, and you would like medical supervision throughout? Woodlands Wellness & Cosmetic Center in The Woodlands TX offers a weight loss program that will help you reach your weight loss goals in a safe and efficient manner.
There's no better way to lose weight than with a medical weight loss program that takes into account the medical history and personal needs of the patient.
What Makes Medical Weight Loss Different?
The medical weight loss program is a way of losing weight rapidly and safely because it is medically monitored from the beginning to the end.
With our integrated weight loss program, we employ a combination of a healthy diet, a physical fitness routine, and lifestyle changes that can help you lose weight.
Our experienced team has helped a lot of people reach their weight loss goals and maintain it for the long run.
As part of the medical weight loss program, you'll work with professionals who care about your success, including medical doctors, coaches, and nutritionists. At Woodlands Wellness & Cosmetic Center, you will receive ongoing support and motivation in addition to the information you need to support your weight loss efforts.
What is Included in Our Weight Loss Programs?
FDA-approved medications – Semaglutide is a once-a-week injection that may help you lose some weight. Similarly, Wegovy is an injectable prescription medicine for overweight and obese patients. Saxenda is another injectable prescription medicine with a different active ingredient from Wegovy. Wegovy and Saxenda are both used to supplement a reduced-calorie diet and increased physical activity.
Oral appetite suppressants – Our goal is to offer you the best weight loss medications, like phentermine/naltrexone and chromium. Phentermine is an appetite suppressant that works on the central nervous system. It works by sending chemicals to the brain to suppress appetite. Naltrexone works by influencing the reward system and other systems, so it can influence food intake and body weight, which helps with weight loss.
ProLon FMD for weight loss – The Fast Mimicking Diet (FMD), which is a type of intermittent fasting, was created by Dr. Valter Longo. The diet program is based on decades of research, including several clinical studies. The ProLon FMD plan includes a 5-day prepackaged meal kit. Not only are the meals whole-food derived and plant-based, but they are also low in carbs but high in healthy fats.
Individualized meal plans and grocery store tours – Our goal is to educate you on how to nourish your body properly. Making smart decisions starts at the grocery store. Our weight loss program includes individualized meal plans and grocery store tours so you can learn the right and wrong foods to help you lose weight.
Food allergy and sensitivity testing – We include food sensitivity tests that can help you figure out how your body reacts to certain foods and how that affects your weight loss. Food intolerances caused by IgG antibodies contribute to inflammation, affecting weight loss.
What to Expect with Medical Weight Loss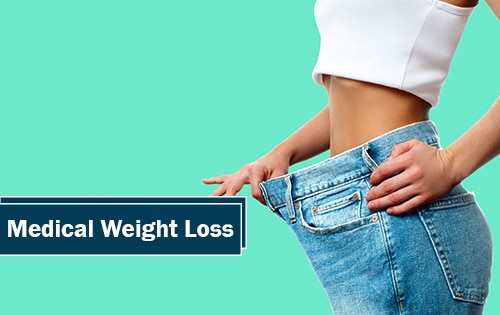 We at Woodlands Wellness & Cosmetic Center use a supervised HCG diet to accelerate your weight loss while teaching you about nutrition and meal planning.
The HCG diet is a weight-loss plan that combines daily injections of human chorionic gonadotropin (hCG) with a low-calorie diet.
The hCG hormone triggers fat burning, giving you energy and feeding your metabolism enough calories to keep it from slowing down despite consuming so few calories.
Our weight loss clinic will carefully assess your family and medical history to determine if our weight loss program is right for you. We will also discuss your goals and preferences, so we can present you with realistic expectations after enrolling in our medical weight loss program.
Say Goodbye to Excess Weight
Losing weight is often hard for a lot of people, especially after fad diets and exercise programs that just do not work. You are not alone. You might be a good candidate for our medical weight loss program. Contact Woodlands Wellness & Cosmetic Center today at 281-362-0014 for a consultation to help you lose weight and enjoy life to its fullest!
Common Questions About Medical Weight Loss

What does Medical Weight Loss do?
A medical weight loss program targets the underlying causes of weight gain and obesity so patients can lose weight and keep it off for good. When you're in a medically supervised weight loss program, a doctor measures your weight loss by your metabolism and body composition, not just by the pounds you've lost.

What is included in the Medical Weight Loss Program?
During your weight loss program, you'll receive services, such as:
30-45 minute consultation with a medical provider
Prescription for hCG shots that you'll self-administer
30-minute office visit with a nutritionist to learn about meal planning
Menu plan for the 40-day hCG plan
Weekly weigh-in and blood pressure check
Weekly visit with their nutritionist to review your food diary and provide support
Overview of your customized weight control plan
Grocery store tours to support diet and meal planning

How long can I see results?
Results from our medical weight loss program may vary per person. However, our individualized weight loss program will surely help you in losing weight and enjoying the extra energy for your daily activities. We also provide monthly accountability visits to help you achieve your weight loss goals. You can count on us to support you along the way.

Is medical weight loss sustainable?
During the weight loss phase, our team will keep you motivated, monitor your progress, and make any necessary adjustments. As soon as you reach your goal weight, we can help you maintain it by adjusting your exercise program, adjusting your diet, and weaning yourself off appetite suppressants.
Hear what people are saying about us. Read the amazing reviews and testimonials from real-life patients we help every day. Woodlands Wellness and Cosmetic Center amazing anti-aging treatments are nothing short of life-changing.
I've been seen Dr Sakina Davis for about 15 years now, she is very professional and spends enough time with you to treat the 'whole you', everything is connected and balancing hormones helps to treat and prevent many conditions. Her experience with bio-identical hormones proved invaluable for that particular stage of my life when I needed it the most. She is always up to date with new treatments coming up and this cutting edge medicine she practices has helped, also, with my back pain issues, allowing me to avoid a fusion surgery and still be able to function. Her staff is super efficient, nice to deal with and first class. AAA+
I've been seeing Dr. George for 10 years and absolutely love him and the staff. He always has your best interest at heart and does everything possible to achieve your goals and produce positive results. Wouldn't go anyplace else for my cosmetic needs!

This has been one of the most rewarding experiences I have ever had in a medical setting. The doctors and staff are the most professional, personable, and talented providers I have met. The results are phenomenal and went way beyond my expectations. I can honestly say that the value of the services have been fantastic and I would do it all over again...but I do not need to because it was done right the first time. :). I highly recommend Woodlands Wellness & Cosmetic Center!