ANTI-AGING SERVICES in TOMBALL TX
Woodlands Wellness and Cosmetic Center is a premier medical practice proud to offer exclusive procedures and cutting-edge technology.
Our medical team provides Testosterone Replacement Therapy, Human Growth Hormone (HGH), Bioidentical Hormone Therapy, Andropause Treatment for Men, Menopause Treatment for Women, and Cosmetic Services such as Body Contouring, Liposuction, Coolsculpting, Botox, Fat Reduction in Tomball, Texas.
Hormone Replacement, Testosterone Therapy & Age-Defying Cosmetic Procedures in Tomball, TX
You can age optimally and look and feel younger with medically supervised interventional wellness programs such as:
Are you feeling as strong and vital as you did in your 20s or 30s? Do you have the energy you once had? The body? The sex life? Would you like to look and feel that way again?
You can with testosterone replacement, HGH therapies, hormone optimization, and our state-of-the-art non-invasive cosmetic procedures such as coolsculpting, Vampire Facelift, and Botox in Tomball TX.
What Are Hormones?
Hormones are a key part of the way your body functions. They are the chemical messengers secreted by the many glands of the endocrine system and carried by the bloodstream that stimulate and regulate most body processes.
Hormones are responsible for:
Sexual function fertility and reproductive health
Normal growth and development of children into adults
Fat Metabolism and digestion
Muscle growth and bone health
Cognitive function and emotional health
As you age, all of your hormone levels decline, but the loss of testosterone and human growth hormone (HGH) has the greatest impact on your vitality, health, mental acuity, and sexual wellness. The drop in testosterone level that men experience as they age can be particularly debilitating. A man's testosterone level peaks at about the age of 20 –after that, it starts a steady decline. By the time a man is over 40, he can expect his testosterone level to drop by about 1% to 2% per year. That results in low testosterone, a condition also known as hypogonadism or andropause. Low testosterone in men, also referred to as Low-T, causes a number of symptoms we commonly attribute to "aging." These include:
Loss of energy
Weight gain, particularly belly fat
Fatigue
Loss of muscle tone
Depression and anxiety
Erectile dysfunction and other sexual wellness issues
Hormone Therapy for Men and HGH Therapy can help with these symptoms and put you back on your path to peak performance at any age.
Hormone Replacement Therapy in Tomball, TX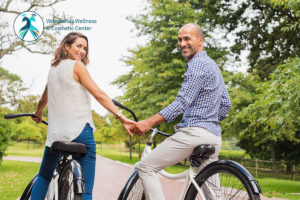 Hormone replacement therapy, or HRT, as the name implies, is all about renewing vitality by giving you back what age and time take away.
Biologically speaking, hormones stimulate, facilitate, or regulate almost all of your bodily functions. Your body naturally produces and replaces hormones as needed.
However, its ability to do so is not unlimited. As we age, our ability to produce hormones decreases. In particular are the hormones associated with sexual function and youthful vitality.
Cosmetic Services to Help You Feel Beautiful Inside and Out
Our clients also have access to a full range of aesthetic treatments. The practice specializes in anti-aging services, including Botox, dermal fillers, chemical peels, and skin tightening treatments.  Woodlands Wellness and Cosmetic Center also offer state-of-the-art procedures like CoolSculpting Elite to help clients achieve their aesthetic goals without surgery.
How Do I Know if I Have an Age-Related Hormone Deficiency?
In very general terms, the symptoms of a hormone deficiency affect three major areas of your quality of life: mental health, physical health, and sexual health.  In many cases, you may be experiencing all or some of these symptoms, and you may be deficient in more than one critical hormone. Typical symptoms of less-than-optimal hormone levels include:
Low energy, fatigue, or weakness
Declining libido decreased sexual desire or erectile dysfunction
Lack of enthusiasm, drive, or motivation
Loss of figure or muscle tone
Poor focus or concentration
At our anti-aging and cosmetic center, we have helped hundreds of men and women just like you overcome the issues of decreased hormones with the best quality service and most competitive pricing on doctor certified Hormone Therapy, including Hormone Replacement for Andropause Treatment and Hormone Replacement for Menopause Treatment. If you live in Tomball, TX, contact us today to see if any of our cosmetic and hormone optimization programs are right for you.
At Woodlands Wellness and Cosmetic Center, we are pioneers and experts in testosterone replacement, growth hormone therapy, and other treatments for age-related hormone decline. We customize your anti-aging and hormone optimization plans to your particular needs and lifestyle. Your testosterone, HGH levels, and other hormone levels will be thoroughly tested for any imbalances or deficiencies. Low Testosterone, Low-T, andropause, male menopause as well as Human Growth Hormone Deficiency are all legitimate medical health conditions that require proper diagnosis and treatment.
The anti-aging medical specialists at our medical center are certified, professionals love to serve clients from Tomball TX. Not all physicians or general practitioners have equal training or understanding of anti-aging medicine. Few have our level of expertise in diagnosing and developing treatment plans for men and women with hormone deficiencies.
At our medical center, our team has the knowledge and the know-how to help you age well through hormone therapy and body contouring. Our medical center provides testosterone replacement and age-defying cosmetic procedures for clients from Tomball, TX.
You Do Not Have to Suffer From Low Testosterone
When it comes to the production of testosterone, most men hit their peak around the age of 17. By the time you reach 80, your testosterone level will likely be about half of what it was when you were at your peak. For some men, the decrease in production has little effect. But for many men, as you hit your 50s, 60s, and older, you may start to feel the impact of age-related testosterone loss experiencing low testosterone or "Low-T." Symptoms of Low-T include reduction of libido or sex drive, a feeling of reduced virility or vitality, changes in mood, erectile dysfunction, decreased energy, reduced muscle and bone mass, and memory issues. If you are a man over 40, and you are experiencing any of these, you may have low testosterone.
However, the only way to truly determine if you have an imbalance of one or more hormones related to your vitality is with proper diagnosis and analysis. Contact us at (281) 916-8653 to find out if testosterone replacement, HGH treatments, or any of our other aesthetic or age-defying cosmetic procedures are right for you.
Neighborhoods
Main Street Tomball, Tomball Terrace, Tomball Hills, Dartford Square, The Tomball Pines, Spring Pines Estates, Spring Forest Estates, James Place, Howe Tract, North H C College, Tomball Parkway Plaza, Tomball Heights, Dicar Place, Falcon, Tomball Town Center, North Star Estates, Springwood, Tomball Parkway, Cherry Place, Ince At Country Meadows, Parkway Shops, Tomball Park, Meadow Lark Hill, Pecan – Tomball, Juergens Woods, Vreicco, Lawrence Street Acres, Tomball Industrial Park, Paloma Park, Liberty Springs, Tomball Village Square, Woodstock, Buckingham Terrace, Cherry Meadows Amended, Leslie's Park, Sherwood Forest, Country Meadows East, Cobble Creek, Tomball Estates, Carrell Manor, Hunterwood, Country Meadows, Hampton Place, Tomball Pines, Coffman Amended, Crestview, Cherry Street
Interested In Learning More?