Facial Thread Lift | Woodlands TX
Facial Thread Lift Is Available At Woodlands TX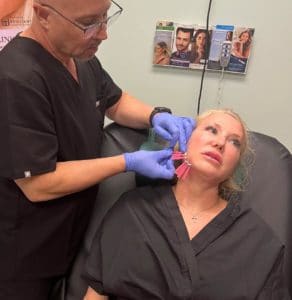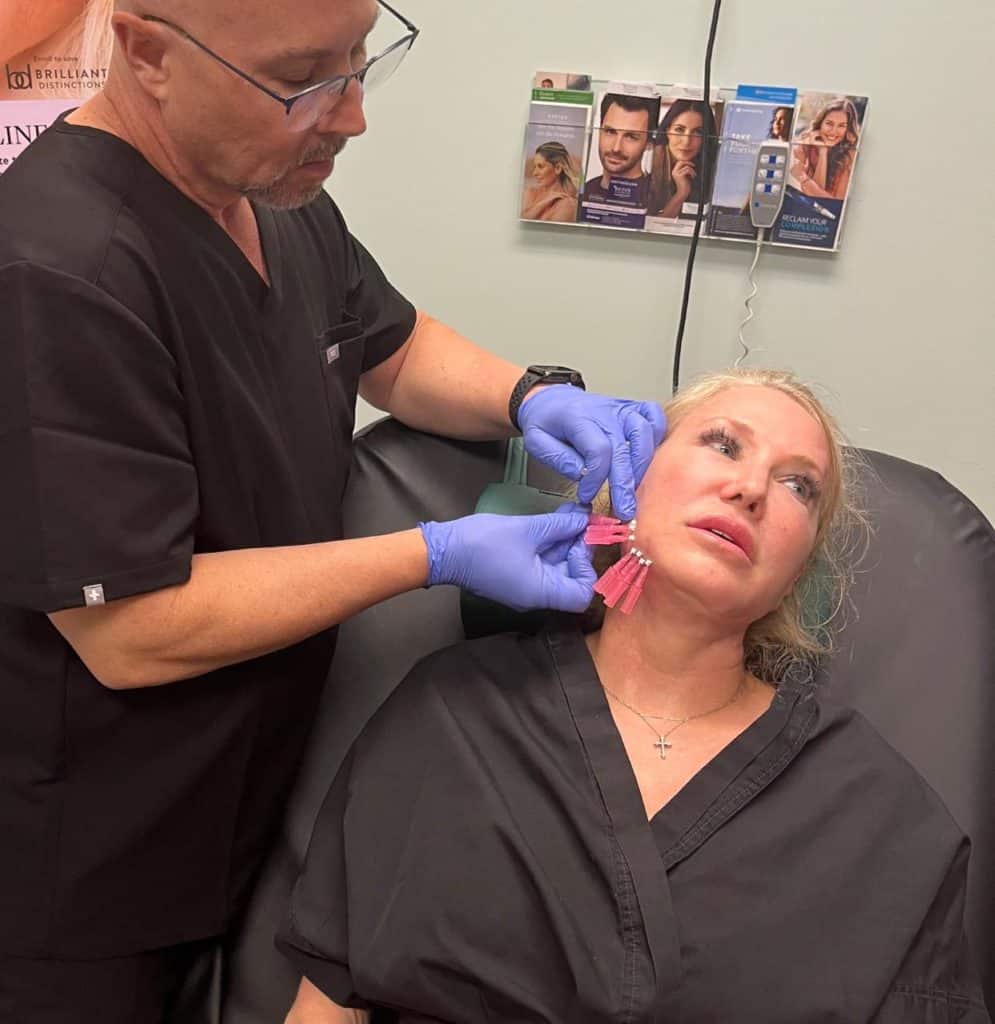 The facial thread lift procedure is a minimally invasive, non-surgical facelift available at Woodlands Wellness & Cosmetic Center in Woodlands, TX.
By stimulating collagen production and contracting fat tissue, this procedure tightens the skin on the face.
If you haven't heard, PDO facial thread facelifts are Hollywood's secret to younger-looking, tauter, and tighter skin. Basically, it lifts sagging cheeks and jowls, defines the jawline, and gets rid of wrinkles to erase signs of aging.
A facial thread lift is a great way to revive your face without going under the knife. Woodlands Wellness & Cosmetic Center offers PDO threads to safely and effectively reduce sagging on the face. 
PDO Facial thread lift offers a viable, FDA-approved solution for men and women showing early signs of aging, such as fine lines, wrinkles, and sagging skin.
Benefits of Facial Thread Lift in Woodlands, TX
Woodlands Wellness & Cosmetic Center specializes in PDO facial thread lift, a minimally-invasive, non-surgical FDA-approved treatment to lift the skin. The facial threads used in this treatment are biodegradable polymers that the body can safely absorb after a few months.
In addition to stimulating collagen production for your skin, facial thread lift has other benefits as well, such as:
Instant facelift

– provides an immediate tightening effect. The threads also stimulate collagen production, so the results get better over time. Even after the threads dissolve, the lifting effect remains.

Tighter skin –

lift loose tissue inside the skin to make the skin look tighter. It helps boost collagen production to give the sagging skin a tighter look. Collagen is a protein that gives skin elasticity. 

Reduced wrinkles and fine lines

– stimulate collagen production, which smoothes out wrinkles and fine lines.

A quick and low-risk

– the procedure is a quick procedure that only takes 15 to 30 minutes. Facelift with facial PDO threads is a low-risk, minimally invasive procedure. No risk for scarring, bruising, or other complications!

Immediate results

– Facial thread lift provides immediate and long-lasting results!

Short recovery time

– there is little downtime so that you can get back to your routine. It's best to avoid strenuous activity and sun exposure. 
How Does Facial Thread Lift Work?
The procedure involves inserting tiny facial threads beneath the skin to lift specific areas and pull them up. Colorless polyester threads are inserted into the skin and break down in the body after a few months. This treatment is an FDA-approved treatment that is entirely safe and effective.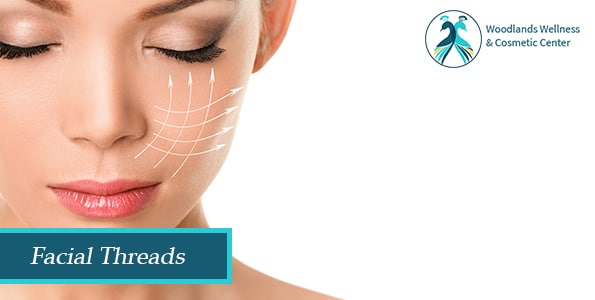 Facial threads tighten the skin in three ways.
First, facial threads act mechanically to lift the skin immediately.

Second, facial threads contract fat tissue resulting in instant skin tightening.

Last, facial threads stimulate collagen production and skin renewal.
This improves skin texture, reduces fine lines and wrinkles, and gives off elastic, younger-looking skin.
Unlike Vampire Facelift which stimulates collagen production with PRP, the PDO facial threads will lift and tighten skin similar to what a surgical facelift will do. 
Results from only one facial thread lift treatment are almost instant! The skin becomes tighter and more lifted. The effects persist for up to 9 months, after which you may schedule follow-up treatments. Over time, you will notice reduced fine lines, wrinkles, and tighter skin.
What areas can I use facial threads for?
Face thread lifts are so versatile that you can use them to treat virtually any part of the face. These include:
Neck

Jowls

Jawline 

Nasolabial folds

Crow's feet

Undereye area

Eyebrows

Cheeks

Marionette lines
What To Expect After Facial Thread Lift
We will carefully assess your family and medical history to determine if you're qualified to get the treatment of the facial threads. After which, our aesthetician will perform the procedure to firm and lift the skin giving you a younger-looking appearance. As with any medical treatment or procedure, the results may vary from person to person.
The entire procedure usually takes between 30 – 45 minutes. Most patients notice an immediate effect. A facial thread facelift has minimal downtime so that you can resume your daily activities immediately. 
Your treatment will continue to see some initial firming and lifting right after your procedure over the next few weeks. Your body will naturally generate collagen giving you a tightened, lifted appearance over the next few months. You may get a follow-up treatment after 1 to 3 years.
Get tighter and a more lifted appearance with facial thread lift
Get firmer and younger-looking skin. At Woodlands Wellness & Cosmetic Center, we specialize in facial PDO threads facelifts to rejuvenate the skin making you look younger and fresher!
Contact us today at 281-362-0014 for a consultation and take that first step to a more confident and attractive version of yourself. 
Common Questions about PDO Facial Threads Lifting

What is the lifespan of facial threads?
Facial threads lift is not a permanent solution compared to a surgical facelift, but the results are long-lasting. Facial threads lift usually lasts between two and three years.

How long does facial threads treatment take?
Facial threads treatment is a quick procedure! It usually takes no more than 40 minutes. You can then go back to work or whatever else you had planned for the remainder of the day.

How many times can you have a facial thread facelift?
The facial thread lift procedure will lift and tighten your skin almost immediately, and since it stimulates collagen production, your skin will continue improving over time. Getting follow-up treatments every one to three years will help you maintain your results.

How long do facial threads take to settle?
There are immediate results following the facial threads facelift procedure. However, you can see the best results in a few weeks. As your body produces more collagen, your skin will continue to tighten and firm.

Is facial threads facelift painful?
Patients who undergo a facial threads lift report mild discomfort during the procedure, although minimal discomfort has been reported. A specially designed needle is used during the procedure to minimize pain. Most pain is treated with over-the-counter pain relievers following the procedure.

What should you not do after a thread lift?
To achieve the best results from your facial threads facelift, there are several things that you should avoid. These include sleeping on your stomach or side, wearing makeup, drinking alcohol, and making extreme facial expressions.
Hear what people are saying about us. Read the amazing reviews and testimonials from real-life patients we help every day. Woodlands Wellness and Cosmetic Center amazing anti-aging treatments are nothing short of life-changing.
I've been seen Dr Sakina Davis for about 15 years now, she is very professional and spends enough time with you to treat the 'whole you', everything is connected and balancing hormones helps to treat and prevent many conditions. Her experience with bio-identical hormones proved invaluable for that particular stage of my life when I needed it the most. She is always up to date with new treatments coming up and this cutting edge medicine she practices has helped, also, with my back pain issues, allowing me to avoid a fusion surgery and still be able to function. Her staff is super efficient, nice to deal with and first class. AAA+
I've been seeing Dr. George for 10 years and absolutely love him and the staff. He always has your best interest at heart and does everything possible to achieve your goals and produce positive results. Wouldn't go anyplace else for my cosmetic needs!

This has been one of the most rewarding experiences I have ever had in a medical setting. The doctors and staff are the most professional, personable, and talented providers I have met. The results are phenomenal and went way beyond my expectations. I can honestly say that the value of the services have been fantastic and I would do it all over again...but I do not need to because it was done right the first time. :). I highly recommend Woodlands Wellness & Cosmetic Center!