Botox | Porter, TX
Botox for Facial Rejuvenation – Look and Feel Younger at Porter
You have probably heard of Botox and how it can be used to turn back the clock by removing the appearance of fine lines and wrinkles on your face.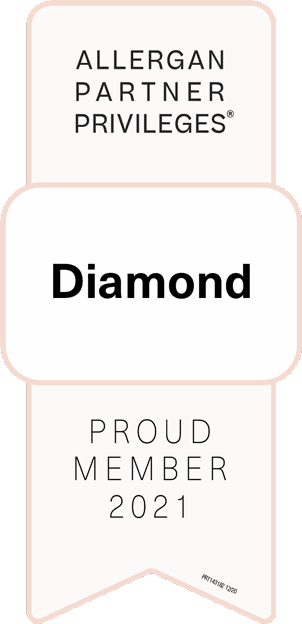 But did you know that we have been designated as a Diamond provider of Botox for Facial Rejuvenation?
Achieving Diamond status as we have is an exceptional honor that's only achieved by about 4% of the thousands of physicians offering Botox.
Diamond status means that our doctors have more experience than most physicians and that they consistently produce excellent results, making us an exceptional choice when it comes to Botox treatments at Porter.That means that if you're considering Botox at Porter, TX, you can be confident in the care you'll receive at our clinic
Who Can Benefit Most From Botox Facial Rejuvenation?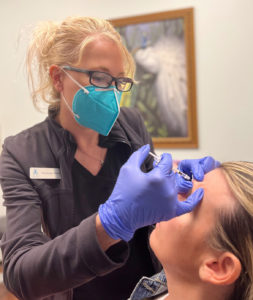 Botox is most often used to treat patients in Porter, TX, with moderate-to-severe wrinkles such as:
Forehead furrows
Frown lines
Crow's feet (wrinkles at the outer corners of your eyes)
However, Botox also effectively treats:
Excessive underarm sweating
Chronic migraine headaches
What Can I Expect at Porter From My Botox Treatment?
When Botox is used to treat facial wrinkles, your doctor at Woodlands Wellness and Cosmetic Center carefully targets a few muscles responsible for the wrinkles you want to treat. Since most facial muscles aren't injected, you still maintain all your natural facial expressions.
Botox Results | Before & After – Porter, TX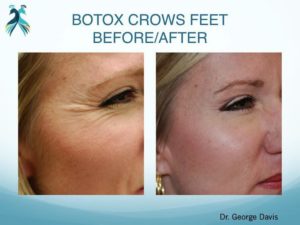 Botox is administered using such a tiny needle that most patients feel minimal pain and don't need a topical anesthetic. The injections only take a few minutes, and when your session is finished, you can return to your normal activities at Porter. Though you don't need to schedule downtime to recover, you should avoid strenuous activities for several hours.
You may develop slight swelling and redness, but these side effects don't last long, and you can cover them with makeup. Additionally, you may have bruising if you take aspirin, nonsteroidal anti-inflammatory drugs, or fish oil, or you consume alcohol 24 hours before your Botox procedure.
What Makes Us Different for
Porter, TX
?
We realize that not all patients in Porter with wrinkles will have the same problem or aesthetic goals. We will tailor your skin tightening and aesthetic treatment plan to your unique needs and lifestyle to maximize your benefits and optimize your results.
Drs. George and Sakina Davis, and our entire staff are committed to making sure that all of our clients at Porter, TX, receive expert care from providers who specialize in cosmetic and body contouring procedures. This unique approach identifies and resolves underlying health problems that affect both body and mind. Functional medicine boosts overall wellness and addresses cosmetic concerns.
In addition to skin tightening techniques, we offer a broad range of body contouring, injectables, and other cosmetic procedures. Clients at Porter, TX, also have access to a full range of anti-aging services and Hormone Replacement Therapies, including Menopause Treatment, Testosterone Replacement, and Growth Hormone Therapy.
Our goal is to help as many people as we can age optimally and continue to enjoy all the things they love about life!Contact us today at 281-362-0014 for a complimentary consultation to see how you can benefit from liposuction or any of the anti-aging services offered at our clinic.
Common Questions About Botox
What is Botox?
Botox is a purified, medical-grade form of a toxin produced by the bacterium Clostridium botulinum. This injectable medication has been used for years to effectively treat medical conditions and to reduce the appearance of wrinkles and facial creases.
How is Botox Used for Facial Rejuvenation?
The injection of small quantities of botulinum toxin into specific overactive muscles causes localized muscle relaxation that smooths the overlying skin and reduces wrinkles. Botox effects take about two weeks to fully develop and last three to four months.
Isn't Botox Dangerous?
Many people get the wrong impression about Botox because it is made from the same toxin that causes a life-threatening type of food poisoning called botulism. However, in small, minimal amounts, that same "poison" can treat several health problems. In reality, Botox injections are relatively safe when performed by an experienced doctor. Possible side effects and complications include pain, swelling, or bruising at the injection site. Some patients experience headaches or flu-like symptoms.
How Soon Will I See Results From My Botox Treatment?
You'll see the results within seven days, and then you can expect to maintain the results for three to four months on average.* When your results start to fade, you can get another Botox treatment, if desired. Some patients find that their results last longer with successive Botox treatments.
How Long Do the Results of Botox Last?
In general, Botox lasts 3-4 months. There will undoubtedly be patients in which it lasts longer — in that 4-6 month range — or shorter, in that 2-month range. It is also common for first-time users to notice that it may not last as long initially but may last long after the second treatment.

Hear what people are saying about us. Read the amazing reviews and testimonials from real-life patients we help every day. Woodlands Wellness and Cosmetic Center amazing anti-aging treatments are nothing short of life-changing.
I've been seen Dr Sakina Davis for about 15 years now, she is very professional and spends enough time with you to treat the 'whole you', everything is connected and balancing hormones helps to treat and prevent many conditions. Her experience with bio-identical hormones proved invaluable for that particular stage of my life when I needed it the most. She is always up to date with new treatments coming up and this cutting edge medicine she practices has helped, also, with my back pain issues, allowing me to avoid a fusion surgery and still be able to function. Her staff is super efficient, nice to deal with and first class. AAA+
I've been seeing Dr. George for 10 years and absolutely love him and the staff. He always has your best interest at heart and does everything possible to achieve your goals and produce positive results. Wouldn't go anyplace else for my cosmetic needs!

This has been one of the most rewarding experiences I have ever had in a medical setting. The doctors and staff are the most professional, personable, and talented providers I have met. The results are phenomenal and went way beyond my expectations. I can honestly say that the value of the services have been fantastic and I would do it all over again...but I do not need to because it was done right the first time. :). I highly recommend Woodlands Wellness & Cosmetic Center!