Fat Reduction with TruSculpt® ID | Shenandoah, TX
TruSculpt iD For Fat Reduction at Shenandoah, TX
Our clinic provides our patients in Shenandoah TruSculpt iD, which is an FDA-approved procedure for the reduction of waistline and non-invasive breakdown of fat in the abdominal area.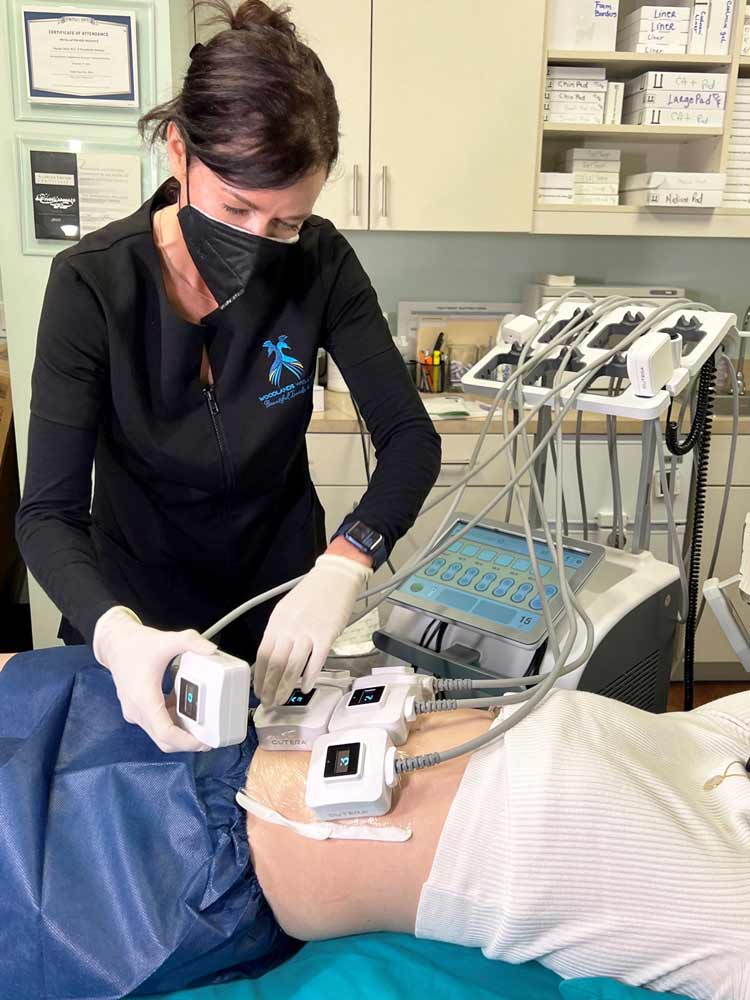 These procedures are safe and effective, with no downtime, and will provide you with a leaner and more toned body you have always desired.
Let's face it: stubborn fat is annoying. There are just some areas of the body where no amount of exercise can help lose fat.
We just want to look fit and healthy. An appropriate weight boosts overall health as it helps prevent diseases such as diabetes and cardiovascular diseases.
Staying fit also means looking more attractive and having more energy and stamina for everyday activities.
Melting away fat from problem areas is a great step in maintaining a healthy weight and a healthy lifestyle. We can help you with fat reduction at Shenandoah through the non-invasive treatment of TruSculpt iD offered.
TruSculpt iD is unlike other body sculpting procedures. It's a quick and safe treatment that melts away fat cells permanently to achieve your ideal healthy and toned body.
Benefits of TruSculpt iD Treatment at Shenandoah, TX
Advancements in the medical aesthetics industry have brought us various body sculpting and body contouring procedures that are safe and effective in removing fat cells in stubborn parts of the body.
At our clinic, non-surgical fat reduction via TruSculpt iD is performed to melt away stubborn fat in problem areas, such as the abdomen, upper arms, and thighs.
Slimmer arms and firmer thighs

– TruSculpt iD helps in sculpting the upper arms and thighs by melting away stubborn fat in these areas. This will give you leaner and more toned arms and thighs. 

Shrink love handles and belly bulges

– TruSculpt iD is approved for abdominal lipolysis to reduce the circumference of the abdomen giving you a slimmer waist

Tighten skin on the abdomen

– RF energy emitted by the TruSculpt iD device also encourages collagen production, which helps in smoothing and tightening the skin. Goodbye to saggy skin!

Reduced appearance of cellulite

– RF energy heats subcutaneous fat deposits and strengthens and thickens the skin, yielding minimized cellulite and contoured treated area.
Our clinic also offers truSculpt® Flex, which goes hand-in-hand with TruSculpt iD. It is also a non-invasive treatment procedure targeting the muscles to give you firmer and improved muscle tone.
How TruSculpt iD Treatment Works for Shenandoah, TX
TruSculpt iD makes use of heat technology to reduce fat cells without the need for surgery. It is a non-invasive treatment that permanently breaks down fat cells in specific areas of the body to provide you with a more sculpted physique.
The TruSculpt device delivers controlled radiofrequency (RF) energy to the surface of the area to be treated while maintaining a comfortable skin temperature.
The low-energy RF waves penetrate deep into the skin layer directed at the subcutaneous fat layer.
These subcutaneous fat cells are heated via RF energy until it reaches a certain temperature which causes them to die, all while maintaining a comfortably heated skin temperature.
Effects may be visible as early as 6 weeks. However, after 12 weeks from the treatment session, an average of 24% fat reduction on the treated area may be observed. Over a 12-week period, the fat cells are slowly broken down and eliminated by the body. 
Areas Of The Body Where TruSculpt iD May Be Applied
Abdomen

Lower back

Outer thighs

Upper arms

Flanks

Submentum (under the chin)
What To Expect After The Treatment
We carefully assess your family and medical history before starting any procedure. We will also discuss your goals and preferences, so we can provide you with realistic expectations from TruSculpt iD. After which, our team of medical experts will then help you with TruSculpt iD for fat reduction, providing you with a leaner and more toned body. As with any medical treatment or procedure, the results of TruSculpt iD treatment may vary per person at Shenandoah, TX.
One session of TruSculpt iD usually takes 30 to 60 minutes, depending on the area to be treated. You may expect to see results as early as 6 weeks from the first session, and improvement to your body may continue until up to 12 weeks. The results are permanent: fat cells removed from the body will not come back. However, it is recommended to maintain a healthy weight through proper diet and exercise to prevent any excess fat from coming back. Multiple sessions may also be needed to achieve your desired results.
TruSculpt iD is a quick and pain-free procedure, with no requirement for anesthesia, needles, or even downtime! Some people may experience mild swelling, numbness, redness, and a tingling sensation after the procedure. However, these effects are completely normal and will resolve in a few hours or days. 
If you want to reduce fat in stubborn areas of your body at Shenandoah, TX, we can definitely help you. We specialize in TruSculpt iD by customizing a treatment plan to contour and sculpt your physique according to your body type. We will help you achieve your ideal body through fat reduction to give you a leaner and more toned version of yourself, all while boosting your self-confidence. 
Contact us today at 281-362-0014 for a complimentary consultation and take that first step to a more confident and attractive version of yourself.
Common Questions About Fat Reduction with TruSculpt® ID
Does TruSculpt iD really work?
TruSculpt iD is one of the top proven treatments in destroying fat cells via a non-invasive radiofrequency technology. It is also effective regardless of body type.
Does TruSculpt iD tighten skin?
RF energy released by TruSculpt device stimulates collagen production, which gives the skin a tighter and more elasticized feel. No saggy skin after the treatment.
Is TruSculpt iD permanent?
Yes, results of TruSculpt iD is permanent, as heat emitted by radiofrequency waves melt the walls of unwanted fat cells. This leads to fat cells to die, and is naturally removed from the body over a 12-week period. For maintenance purposes, proper diet and exercise should be accomplished.
Does fat come back after truSculpt?
Fat cells that are melted away by radiofrequency waves will not come back; therefore, the results are permanent. However, healthy weight through proper diet and exercise should be maintained to prevent any excess fat from returning.
How much weight do you lose with truSculpt?
Weight loss results may vary per person. In general, after the treatment, body fat reduction of up to 24% in the treated area may occur. This results in loss of inches of fat from problem areas.

Hear what people are saying about us. Read the amazing reviews and testimonials from real-life patients we help every day. Woodlands Wellness and Cosmetic Center amazing anti-aging treatments are nothing short of life-changing.
I've been seen Dr Sakina Davis for about 15 years now, she is very professional and spends enough time with you to treat the 'whole you', everything is connected and balancing hormones helps to treat and prevent many conditions. Her experience with bio-identical hormones proved invaluable for that particular stage of my life when I needed it the most. She is always up to date with new treatments coming up and this cutting edge medicine she practices has helped, also, with my back pain issues, allowing me to avoid a fusion surgery and still be able to function. Her staff is super efficient, nice to deal with and first class. AAA+
I've been seeing Dr. George for 10 years and absolutely love him and the staff. He always has your best interest at heart and does everything possible to achieve your goals and produce positive results. Wouldn't go anyplace else for my cosmetic needs!

This has been one of the most rewarding experiences I have ever had in a medical setting. The doctors and staff are the most professional, personable, and talented providers I have met. The results are phenomenal and went way beyond my expectations. I can honestly say that the value of the services have been fantastic and I would do it all over again...but I do not need to because it was done right the first time. :). I highly recommend Woodlands Wellness & Cosmetic Center!