Melt away stubborn pockets of fat with body contouring in Woodlands, TX.
We've all experienced gym failures. Working out several times a week is hard and could be fairly stressful.
In addition, some people find it extremely difficult to target some areas with their workouts.
No matter what you do, having stubborn fat in "too visible" areas can negatively affect your self-esteem. Why not try the popular body contouring treatment in Woodlands, TX? It's a great way to firm up a few tricky-to-tone zones.
In Woodlands, TX, TruSculpt iD melts stubborn fat in problem areas, such as the abdomen, upper arms, and thighs. Get the body you dream of.
Body Contouring in Woodlands: TruSculpt ID
TruSculpt iD is an FDA-approved procedure for reducing waistline and non-invasive breakdown of fat in the abdominal area. This body contouring procedure removes stubborn fat from problem areas, such as the abdomen, upper arms, and thighs.
The TruSculpt ID technology is RF (radio frequency) nonablative, so there is no downtime involved after the treatment. It's a rapid procedure that only takes 15 minutes to target any area of the body.
Body contouring with truSculpt ID is the most comfortable on the market to target fat cells quickly and still just as effectively.
How Does Body Contouring Work?
TruSculpt iD uses heat technology to reduce fat cells without surgery. It is a non-invasive treatment that permanently breaks down fat cells in specific areas of the body to provide you with a more sculpted physique.
TruSculpt device delivers controlled radiofrequency (RF) energy to the surface of the area to be treated while maintaining a comfortable skin temperature.
Learn More Here: Stay in Shape and Summer Ready with CoolSculpting in Woodlands
The low-energy RF waves penetrate deep into the subcutaneous fat layer of the skin, heating the fat cells until they reach a specific temperature, causing their death, while the skin's temperature remains comfortable for the user.
Areas Body Contouring Can Address
Abdomen
One of the primary areas of improvement is the abdomen. Body contouring with TruSculpt ID would be the perfect solution for loose skin and weakened abdominal muscles that might occur after pregnancy or moderate weight loss.

Skin is tightened, and excess fat is removed from your entire waist area, not just the front. Body contouring will help you get a firmer, flatter belly.

Thighs
Having "thunder thighs" means you'll probably need to tighten and contour that area when you lose excessive fat. The last bulges of fat in the thighs can be hard to eliminate, even if you are close to your ideal weight.

Body contouring with TruSculpt ID can correct these problems, restoring slim, attractive legs.

Flanks
In some people, significant weight loss can result in hanging folds of skin below the shoulder blades on the sides of the lower back. Sometimes, exercising does not fully remove "love handles" properly.

Body contouring uses radiofrequency waves to eliminate excess skin and fat from the lower back, resulting in a more toned body.

Hips
Among the most significant areas of concern for some people are loose, sagging skin and bulges of fat around the hips, often worse than those around the abdomen or thighs.

This is where TruSculpt ID comes into play, tightening the skin and removing fat in your hips to enhance your figure.

Upper Arms
In many cases, excess body fat is present in the arms as the first indicator of excess weight in the body. Your body has likely decided to store some excess fat under the skin on your arms.

TruSculpt iD reveals your desired upper arms by melting away excess fat and tightening your skin.
When Can I See the Results?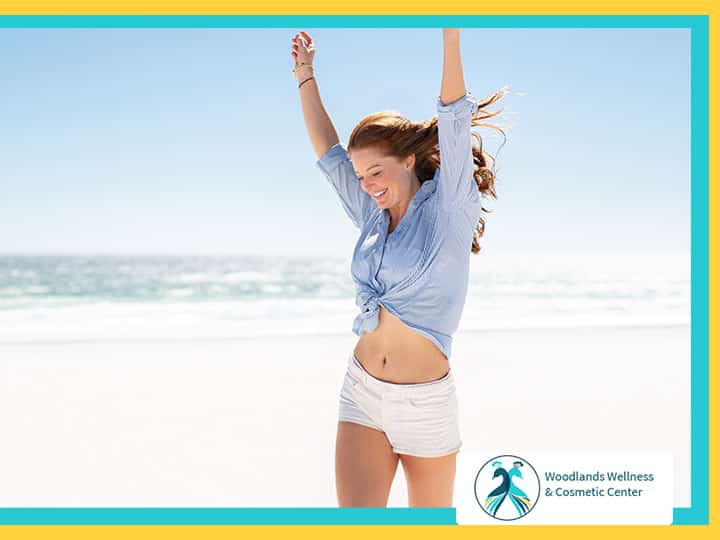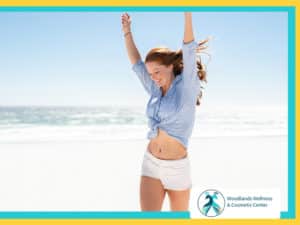 Effects may be visible as early as six weeks. However, after 12 weeks from the treatment session, an average of 24% fat reduction in the treated area may be observed. Over 12 weeks, the fat cells are slowly broken down and eliminated by the body.
Achieving the best results takes 1 to 3 body contouring sessions. A combination of healthy eating and regular exercise should accompany TruSculpt ID to contour the body effectively.
Ways to Contour the Body Without Even Trying
Try mixing your exercises.
When working out, try mixing up different types of exercise. Try yoga and stretching for a few days, then mix it up with high-intensity interval training.

By developing a well-rounded fitness base, preventing overuse injuries, and keeping things fun, your workouts will never be boring again.

Walk everywhere.
Walking is one of the best ways to get your body moving. Walking reduces training stress to the body, resulting in a higher fat-burn ratio.

Also, when we walk, our deep abdominal fat is the first to go, which is something we all want.

Ditch the elevator.
Stairs can provide great exercise. Take the stairs whenever possible instead of taking the elevator. We also suggest using the stairs for calf raises.

The calves are often neglected, so ditching the elevator for the stairs will give you toned calves and legs.
Combining healthy eating and regular exercise with TruSculpt ID is the best way to contour the body effectively.
Get the body you desire with Body Contouring in Woodlands, TX.
Body contouring can help target unwanted pockets of fat and tighten lax skin after losing weight. The Woodlands Wellness & Cosmetic Center in Woodlands, TX, offers non-invasive body contouring with TruSculpt ID to shape and tone the body.
Are you ready to have the body of your dreams? Contact Woodlands Wellness & Cosmetic Center today at (281) 223-1124 for a complimentary consultation, and let's get started with body contouring.