What is RF Microneedling?
RF Microneedling is a skin-tightening procedure that uses tiny needles and radiofrequency waves to rejuvenate facial skin.
Microneedling uses a fine needle to create micro-wounds, or channels, in the skin.
This triggers your body's own healing processes, which results in smoother, younger-looking skin. RF microneedling is also sometimes referred to as simply "skin needling" or collagen induction therapy.
As compared with treatments like chemical peels and dermabrasion, radiofrequency microneedling is minimally invasive. Besides being minimally invasive, RF microneedling has several advantages over other laser skin tightening treatments or more traditional approaches to microneedling.
Number one, RG microneedling is very good for people with darker skin tones. Many laser skin treatments are not recommended for darker skin tones; however, RF microneedling can provide similar results to laser treatments and is perfectly safe for every skin tone or complexion.
It is also preferred over other treatments because microneedling with RF waves is less invasive, more comfortable, and requires less recovery time. Another aspect of RF microneedling that makes it more attractive than traditional microneedling or other skin-tightening procedures is that it is completely customizable to each patient's skin issues and aesthetic goals.
Studies have also found that, as opposed to other microneedling techniques, RF microneedling produces a more uniform warming effect on the deep tissue, which helps to stimulate new collagen fibers to grow, leading to a significant improvement in skin quality and texture.
It has also been found to be more effective at stimulating collagen production than other procedures. While traditional microneedling only damages the surface layer of the skin to activate healing, RF microneedling utilizes radiofrequency waves and heat to boost your collagen levels without harming your skin.
RF microneedling procedures do not take a long time to do. Depending on the areas treated, you could be done in as little as 30 minutes! Some results are almost immediate.
However, the most dramatic results will not be visible until four to six weeks after treatment. It takes roughly this long for your body to create new, strong, healthy collagen.
What Can I Expect from RF Microneedling?
During your microneedling treatment, the team at Woodlands Wellness and Cosmetic Center uses a special tool that creates microtears on the surface of your skin. The microtears simulate a wound, which triggers your body's natural healing system to repair the damage, including the production of new collagen.
This results in a reduction of saggy, wrinkly skin that can make you look much older than you feel. Microneedling is a multipurpose aesthetic skincare treatment. Our specialists use microneedling to fix many common skin concerns, including:
Fine lines and wrinkles
Sun damage
Acne scars
Stretch marks
Large pores
In our practice, we use two microneedling tools — the SkinPen and Secret RF. SkinPen microneedling takes about 30 minutes. To minimize discomfort during your SkinPen microneedling, the team applies a numbing cream to your skin prior to treatment.
Secret RF takes 45 minutes to an hour of your time and requires little to no downtime. To minimize discomfort, the team applies a numbing agent to your skin prior to treatment. Patients see remarkable results from either technique.
You and your cosmetic specialist will decide which is best for your skin condition and desired results.
With microneedling, you can expect the following:
A rapid recovery time
No scarring whatsoever
An almost immediate, more youthful "glow" to your skin
Smoother looking skin
Increased production of collagen and stem cells over time, resulting in firmer, more youthful-looking skin
Long-lasting results
The current condition of your skin and why you are having RF microneedling will determine how many treatments you will need to achieve your aesthetic goals.
Obviously, the more severe or progressed the condition is, the more treatments you will likely need. For example, to treat wrinkles and other signs of aging, you should only need between one and two treatments per year to maintain your youthful appearance.
But for moderate acne scars, you will probably need between three and four treatments, and for moderate-to-severe burn scars and stretch marks, you will need approximately five treatments.
RF Microneedling for Looking Younger and Feeling Great!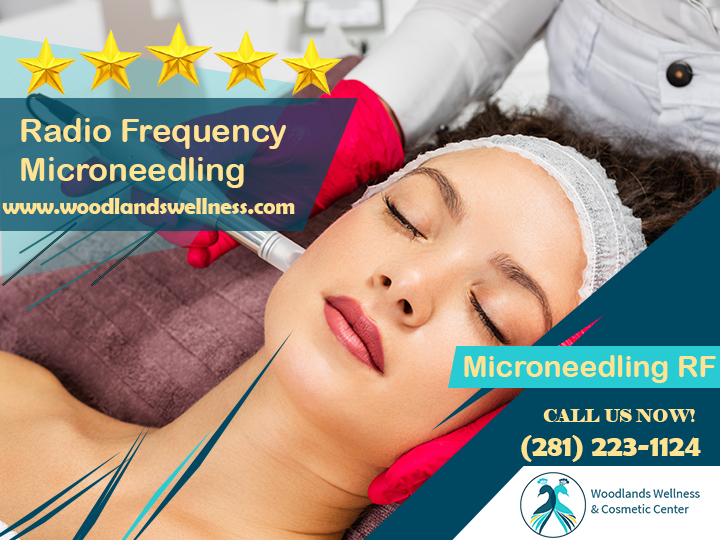 At Woodlands Wellness and Cosmetic Center, we are dedicated to using the latest techniques for skin tightening to help men and women look younger, slimmer, and fitter.
Our skin tightening specialists know that a decrease in the production of collagen and elastin as you get older leads to saggy, wrinkly skin that can make you look much older than you feel.
That is why we offer skin tightening using advanced cosmetic tools like RF Microneedling to lift and tighten your sagging skin and restore your youthful look.
We also offer a range of other noninvasive skin tightening techniques, such as:
All of these noninvasive skin lifting and tightening techniques can provide remarkable results. You and your doctor will decide which is right for you. It is our goal to offer all of our patients the latest technologies that have proven to help both women and men feel better, look better, and function better in all aspects of life.
In addition to noninvasive facelifts, clients at Woodlands Wellness and Cosmetic Center also have access to a full range of hormone replacement therapies and anti-aging services to help you look and feel young, vital, and strong.
"My Vampire Facelift was everything they said it would be. I love how open and honest everyone here was about the procedure. I felt very comfortable and relaxed. I am so glad I came to Woodlands, and I have referred many of my friends and family."

– Betty A. Woodlands, TX.
If you would like to learn a little bit more about the many life-changing benefits of the Vampire Facelift or any of our skin-lifting and rejuvenating techniques, please contact us today by calling (281) 223-1124.