PRF Hair Restoration | Woodlands TX
Hair Loss Treatment with PRF in Woodlands TX
At Woodlands Wellness & Cosmetic Center in Woodlands, Texas, we provide you with platelet-rich fibrin (PRF) therapy to help restore your crowning glory from hair loss, hair fall, and hair thinning due to aging and post-pregnancy.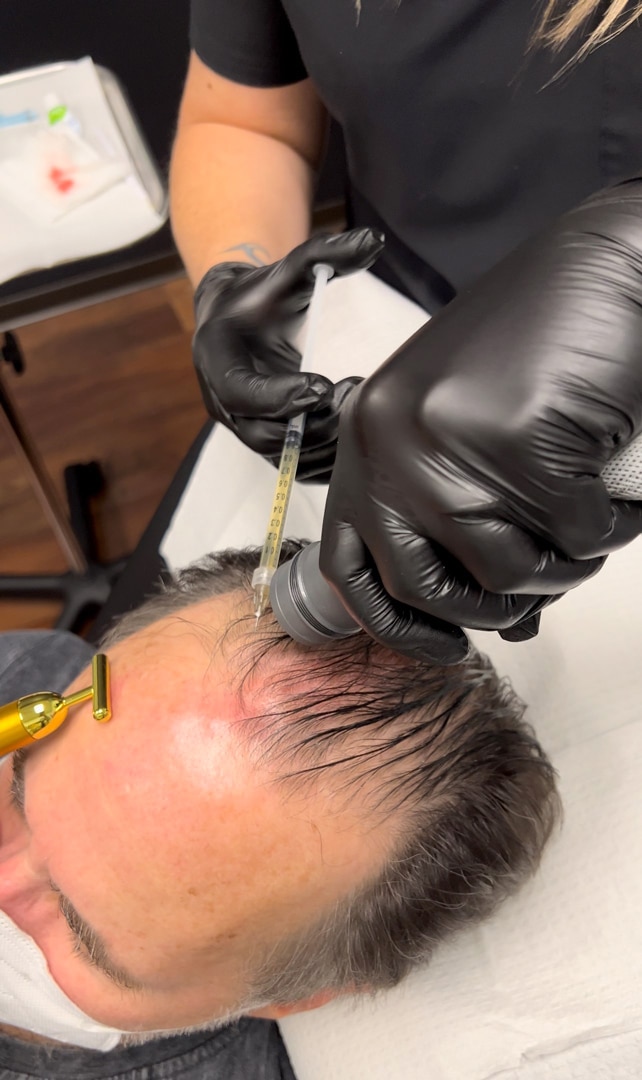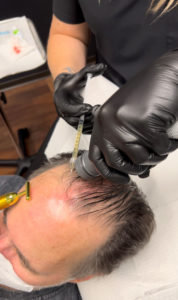 We have the latest treatments that are proven to be safe and effective in restoring your gorgeous head of hair and confidence back.
The hair is considered one's crowning glory. Hair loss, or alopecia, is a concern for men, women, and even children.
Culture dictates that luxurious hair is associated with youth, beauty, and good health.
So losing one's hair usually takes a toll on one's emotional and psychological health. At Woodlands Wellness & Cosmetic Center, we will help you restore your crowning glory from hair loss using PRF therapy.
Platelet-rich fibrin therapy will help restore your crowning glory, the hair, by stimulating growth using growth hormones from your own blood.
Benefits Of PRF Therapy for Hair Loss Treatment
Current treatments for hair loss have shown unsatisfactory clinical outcomes in some patients. At Woodlands Wellness & Cosmetic Center, we offer platelet-rich fibrin therapy to restore hair regrowth due to hair loss and thinning of the scalp. Male pattern or female pattern hair loss? Postpartum hair loss? Thinning hair due to aging? We got you covered. PRF therapy is safe and effective, with no downtime.
New Hair Regrowth – PRF contains growth factors and cytokines that will help with new hair regrowth. These growth factors will stimulate the hair follicles to grow new hair strands.
Strengthened Hair Roots – PRF injections help improve the strength of hair roots or hair follicles, thereby enabling new hair regrowth
Increased Hair Density – PRF will help reverse hair loss by increasing blood supply to the hair follicle, thereby increasing hair density.
Minimally-invasive Procedure – Blood extraction for platelet collection is the only invasive step in this procedure. Compared to hair replacement surgery and hair transplant procedures, PRF uses your own fibrin to stimulate hair regrowth.
No Downtime – Hair restoration via PRF therapy has no downtime. You can resume your daily activities right away.
No Medications Required – PRF therapy has no side effects and no risk for allergic reactions.
How Does PRF Therapy Work for Hair Restoration?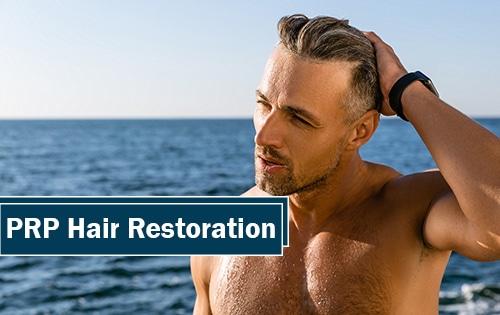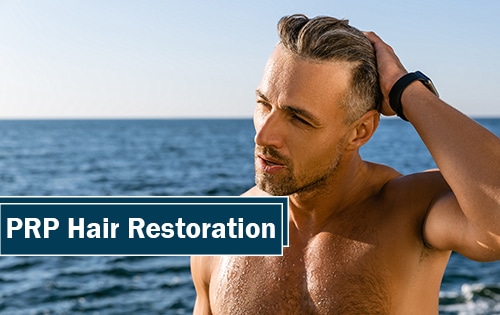 Woodlands Wellness & Cosmetic Center offers platelet-rich fibrin therapy to help you restore your hair.
Platelet-rich fibrin (PRF) therapy has been proven effective in increasing hair density in males and females, thereby counteracting hair loss.
Venous blood is extracted from the arm. It is then centrifuged to separate the platelets from the red blood cells.
Platelets have an important role in the healing process of different parts of the body. It is known for its clotting abilities. It also contains growth factors, which trigger cell reproduction and stimulate tissue regeneration and healing.
Concentrated fibrin is then injected into the scalp where healing or effect is desired, such as in the hair. The result is platelet-rich fibrin that contains different growth factors and cytokines, which are required for new hair regrowth. These growth factors stimulate the growth of hair follicles.
What Can I Expect After The Procedure?
We will carefully assess your family and medical history, and discuss your preferences. After which, our team of medical experts will then help you with PRF treatment for hair loss, providing you with a head full of hair. As with any medical treatment or procedure, the results of PRF therapy may vary per person.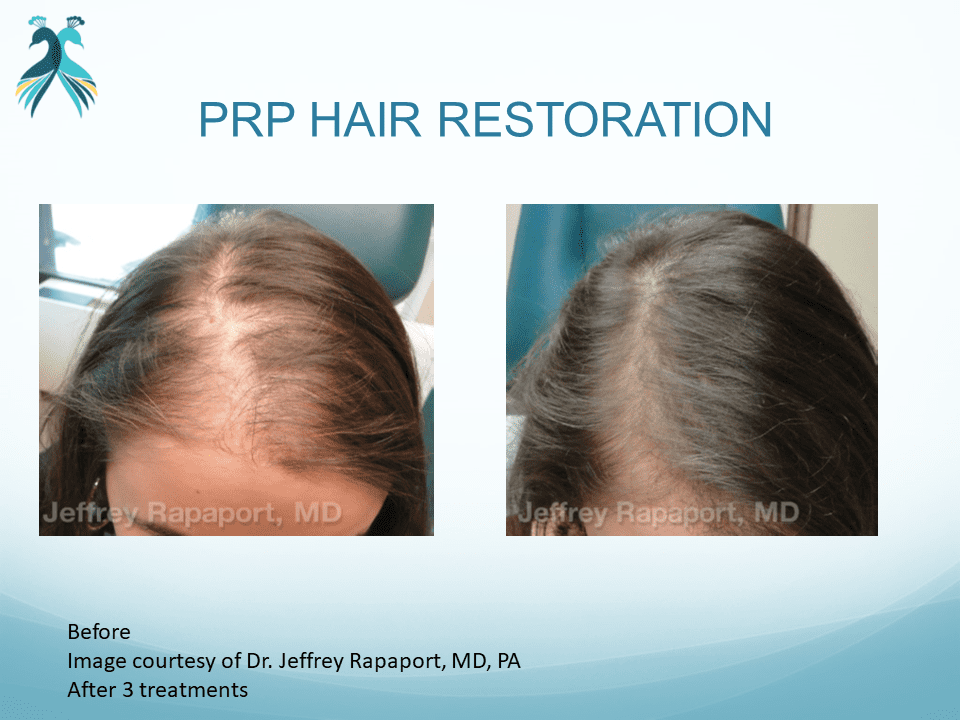 The entire procedure usually takes between 45 to 60 minutes, depending on the area to be treated. A medical professional draws blood from the arm. Blood components are centrifuged to separate the platelets from the other blood components. The platelet-rich fibrin is then applied to the different areas of the scalp to stimulate hair regrowth. It can take up to 3 to 6 months to visually see the results of PRF treatment. Expect a thicker hair shaft and growth of new hairs weeks after the first session. Multiple sessions may be necessary to achieve your desired results.
PRF therapy has zero downtime or recovery time. Some people may experience soreness and bruise after the procedure. However, these effects are completely normal and will resolve in a few days. Since PRF injections are made of one's own blood cells, there is no risk of allergic reactions and no side effects. Expect no complications from the procedures, as our clinic is trained, certified, and licensed to perform PRF treatment for hair loss.
Join thousands of men and women who are enjoying their new heads of hair thanks to PRF therapy. If you want to reverse hair loss, then maybe we can help you! At Woodlands Wellness & Cosmetic Center, we provide PRF therapy that will help stimulate hair growth. Contact us today at 281-362-0014 for a consultation and take that first step to a more confident and attractive version of yourself.
Common Questions About PRF Hair Restoration

Does PRF really work for hair growth?
PRF can be successfully administered to select hair loss cases due to its rich content of tissue repairing components. PRF consists of many proteins and growth factors mediums that work together to restore blood supply to hair follicles, making them stronger.

How long does PRP last for hair loss?
Effects of PRP treatment ranges may last 12 to 24 months after the initial treatment session. Multiple sessions may be needed to achieve the desired results.

What is the success rate of PRP hair treatment?
On average, the success rate of PRP therapy for hair restoration is between 70 to 90%. It tends to work better in younger patients beginning to experience the effects of genetic hair loss and thinning.

How many PRP treatments are needed for hair growth?
Each case is different; however, to enhance the success rate of the PRP treatment, patients are advised to undergo at least 3 to 4 sessions, spaced 4 to 6 weeks apart. Afterwhich, maintenance therapy may be one session every 6 to 12 months.

Do you have to do PRP forever?
Results of PRP treatment are not permanent, and it lasts around 12 to 24 months after the initial treatment session, depending on various factors. Additional PRP treatment sessions are advised to maintain the hair restoration process.
Hear what people are saying about us. Read the amazing reviews and testimonials from real-life patients we help every day. Woodlands Wellness and Cosmetic Center amazing anti-aging treatments are nothing short of life-changing.
I've been seen Dr Sakina Davis for about 15 years now, she is very professional and spends enough time with you to treat the 'whole you', everything is connected and balancing hormones helps to treat and prevent many conditions. Her experience with bio-identical hormones proved invaluable for that particular stage of my life when I needed it the most. She is always up to date with new treatments coming up and this cutting edge medicine she practices has helped, also, with my back pain issues, allowing me to avoid a fusion surgery and still be able to function. Her staff is super efficient, nice to deal with and first class. AAA+
I've been seeing Dr. George for 10 years and absolutely love him and the staff. He always has your best interest at heart and does everything possible to achieve your goals and produce positive results. Wouldn't go anyplace else for my cosmetic needs!

This has been one of the most rewarding experiences I have ever had in a medical setting. The doctors and staff are the most professional, personable, and talented providers I have met. The results are phenomenal and went way beyond my expectations. I can honestly say that the value of the services have been fantastic and I would do it all over again...but I do not need to because it was done right the first time. :). I highly recommend Woodlands Wellness & Cosmetic Center!